Low user adoption rates are the root cause of more CRM project failures than any other factor. Modern digitalisation of enterprise software has made some CRM's extremely difficult and clunky to use, forcing employees to form bad habits or refer back to the old way of working.
People are naturally resistant to change, particularly if it involves a lot of work in the initial stages before results start to show. If the on boarding from your CRM partner hasn't been successful or the configuration of the system isn't compatible with your business, it's going to cost you a lot of time and money.
If your sales, marketing and support teams don't use the system, it's not only going to be an internal issue but your customers are going to notice too. It's going to get confusing if half of your team have adopted the new system whilst the other half are still working from spreadsheets. Important information is going to get lost, leaving your sales team to aim in the dark and desperately try to fill in the blanks to secure a deal.
Would you like to solve these problems?
Implementing a new CRM system should be helping your team, not hindering them but with the correct on-boarding, workshops and configuration you'll get the best start with your new system.
Keep in mind and communicate with everyone who is going to be using the CRM to ensure they understand the project and get their say on what they would like to see improved to avoid low user adoption. Functionality is key, here at Sugabyte we always recommend that you 'think big but start small' and really focus on the "must-haves" for your CRM as opposed to the "nice-to-haves" to avoid bogging your system down with things you don't need and won't use.
So, how can we help?
One of the core pillars of SugarCRM is a 'low touch management'. Sugar adopts a series of functionalities to help improve user adoption such as:
1. Sugar Connect
Creating new contacts with Sugar Connect makes creating new leads and contacts easy because for most emails, it can already pick out the first name, last name, email, job title and even the link the contact to the correct account inside Sugar. Entering new contacts for the CRM is as easy as 3 clicks inside Outlook and Gmail.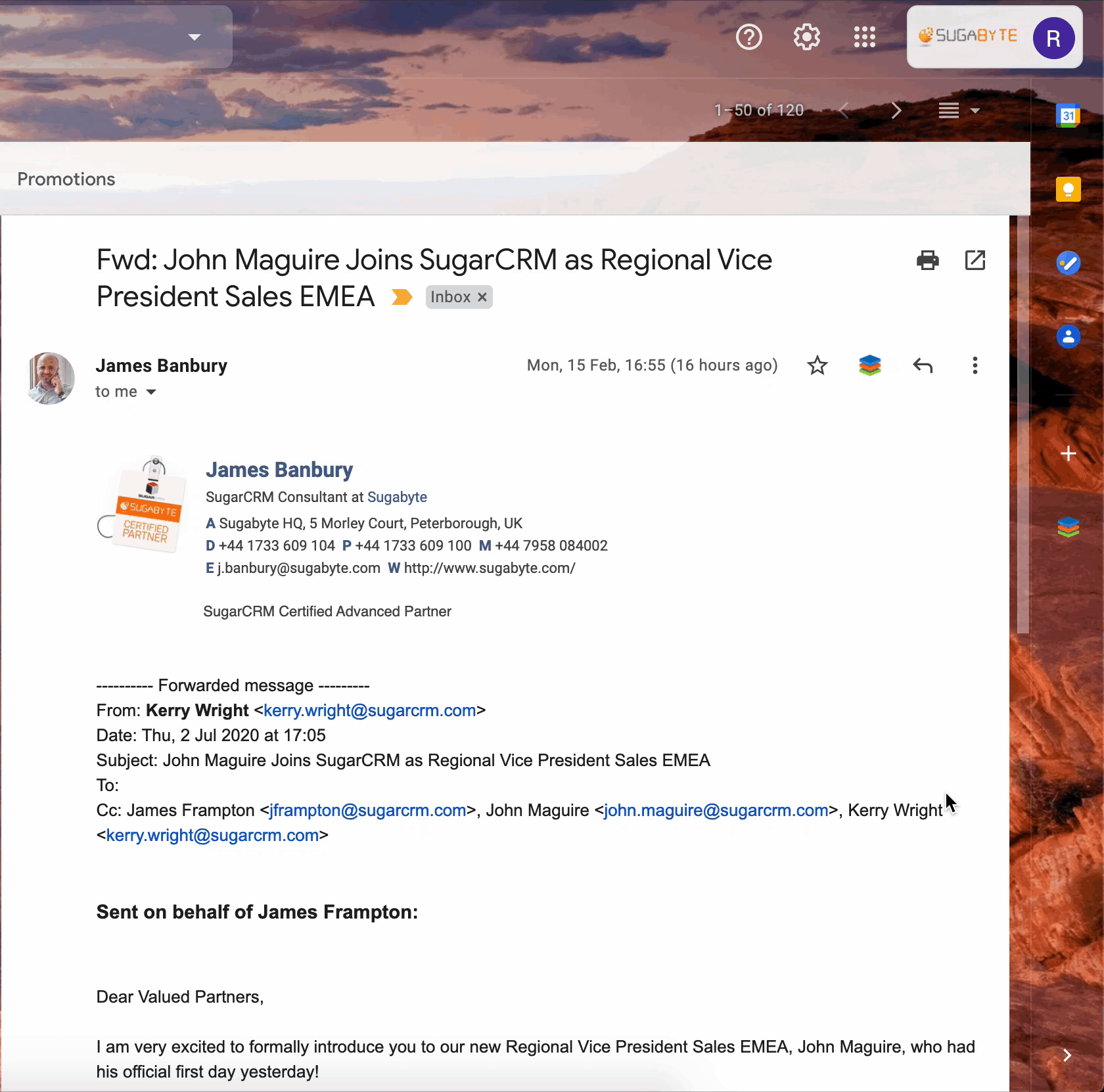 2. Sugar Hint
Sugar Hint saves time on the initial research of a new lead. SugarCRM has several contracts with data suppliers that enables the tool to automatically surface useful information about that Lead, Contact and Account and provides you with a download link that with automatically push that information into your CRM. Saving lots of time throughout the day.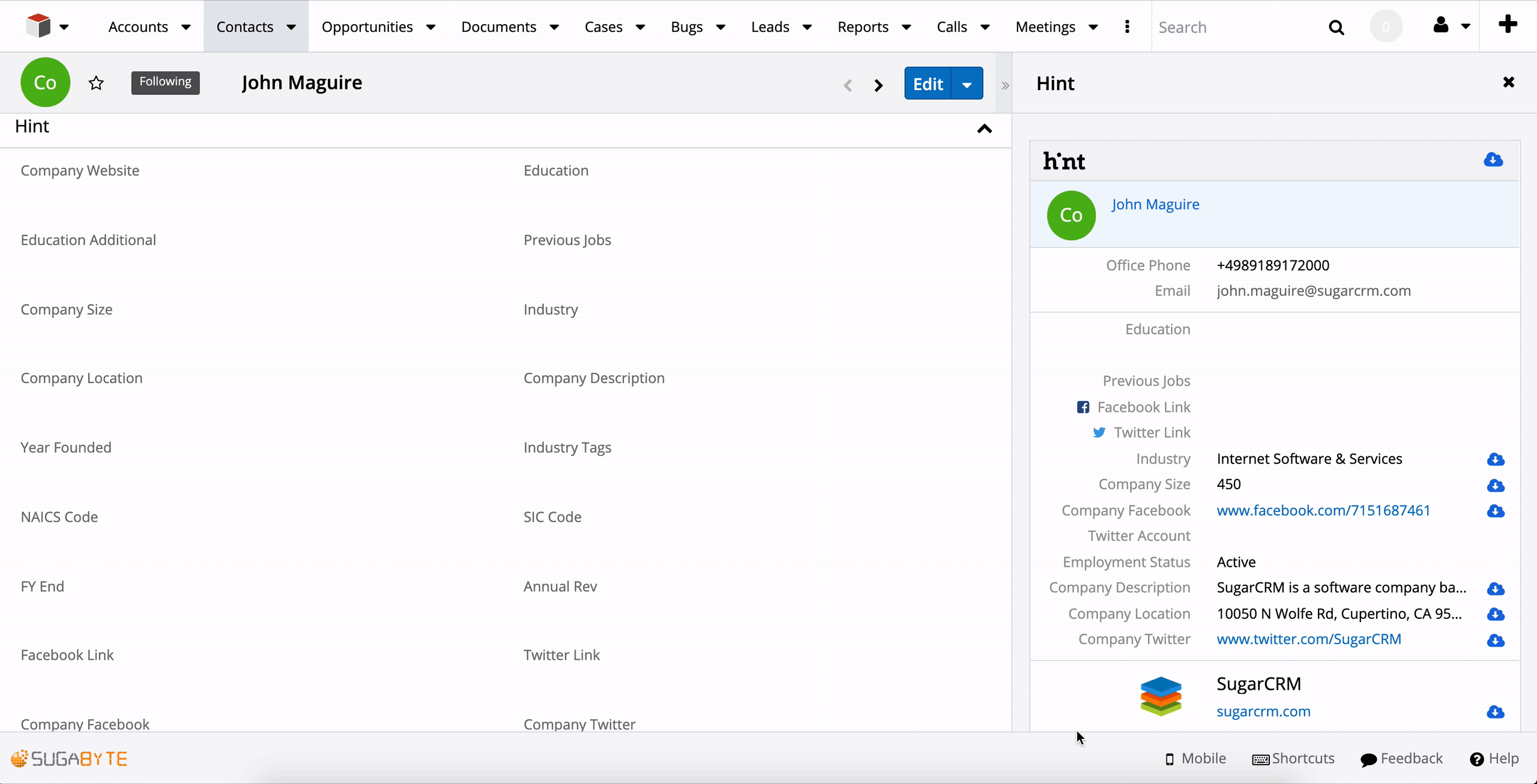 3. SugarBPM
SugarBPM resolves what most companies may initially seek to use a CRM for – saving time by reducing the amount of manual data entry using automation. Mundane data updates and alerts that are typically performed manually are now done automatically so your team can focus on what they do best.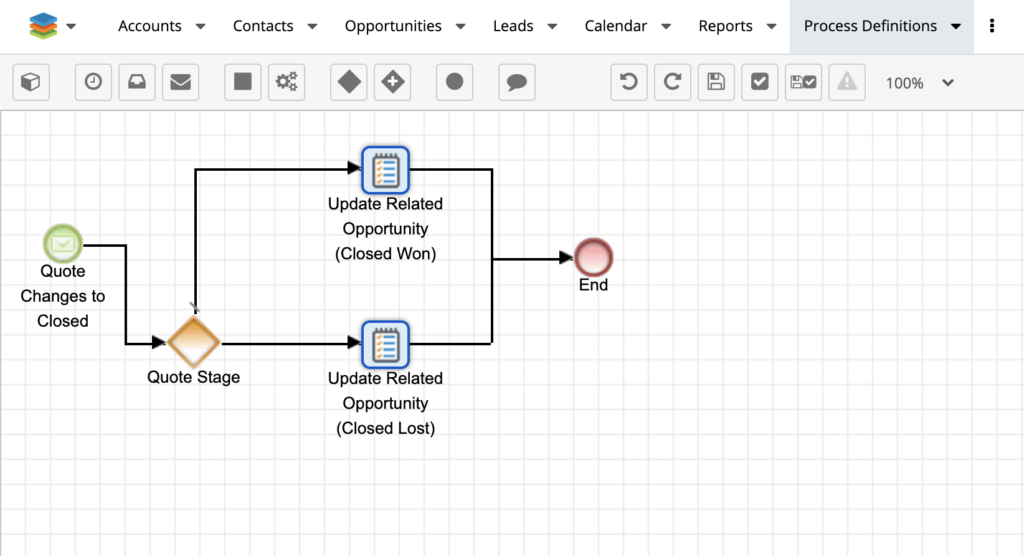 4. A world class user interface worthy of a '2021' nametag that shows the right data at the right time
If you have this problem, we would like to help solve it.
Send an email to one of our consultants: [email protected]