Sugar Market has fast become the new standard for B2B Marketing Automation. Offering organisations an All-in-One Marketing Automation solution specifically designed to support B2B Marketing.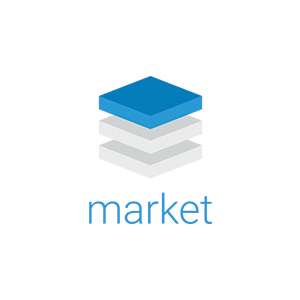 There are a number of distinct differences between how B2B and B2C organisations should manage their Marketing initiatives: In this post we cover how best to manage your B2B Social Media Marketing strategy.
One of the main challenges B2B Marketers face in successfully implementing a valuable Social Media Marketing strategy – is organising, analysing and reporting on a large quantity of content across multiple social channels – while proving accurate data to support Social Media Marketing ROI.
For example, creating and organising a high volume of content for LinkedIn, Facebook, Twitter, Youtube and Instagram can become very confusing and time consuming for B2B Marketers with each social channel requiring content in a different format, different character allowance and different creative requirements just to name a few key differences.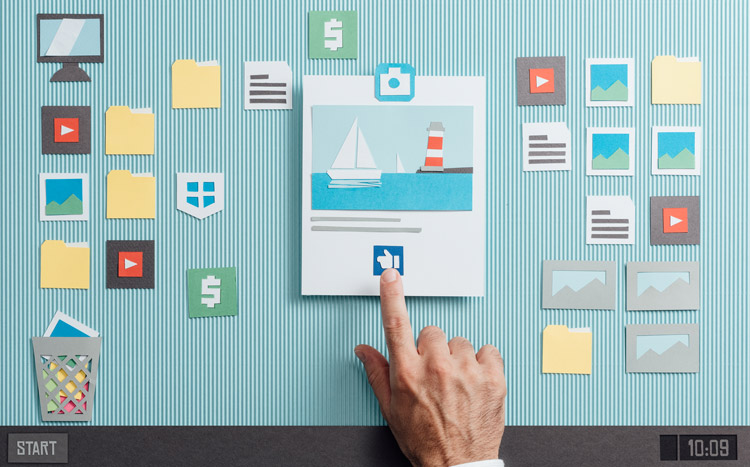 For example, the standard image size for Instagram posts is (1080pxX1080px) where the standard image size for LinkedIn posts is (1,200×1,200px). To add further confusion, the caption limit on Instagram posts is 2,200 characters whereas the character limit on LinkedIn posts is 700 characters.
When you scale this up and attempt to produce multiple pieces of content that adhere to the very many differences across Social Media Channels – this is where things become difficult to manage.
This is just one of many examples of the challengers B2B Marketers face in producing and maintaining a successful Social Media Marketing strategy.
Without the right tools it can be equally as difficult to analyse engagement, content reach and interaction with a view to provide senior staff with evidence supporting Social Media Marketing ROI.
To ensure your Social Media Marketing strategy is managed successfully, B2B Marketers must be empowered with the necessary tools to save time and automate the process as much as possible.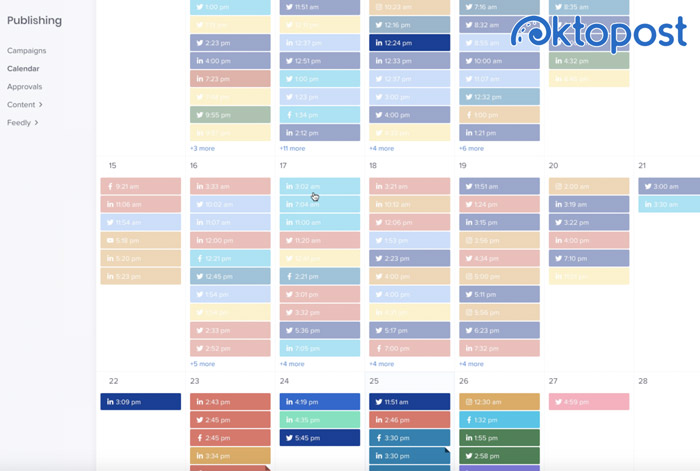 (Image: Oktopost Social Media Content Calendar) 
This means being able to easily manage posts across multiple Social Media Channels, manage Social Media Calendars, quickly analyse insights and automatically be presented with notifications as and when they arrive – no matter the volume of content being produced and published.
What is Oktopost?
This is where Oktopost comes in – One of the many high level features of Sugar Market specifically designed to empower B2B Marketers is Oktopost – The only Social Media management platform architected for B2B organisations.

Oktopost is pre-built into Sugar Market meaning users can leverage this fantastic tool straight out the box. The level of integration between Oktopost and Sugar Market is seamless and massively advantageous for Sugar Market users.
With Oktopost, users are able to effectively organise and manage their Social Media and Employee Advocacy strategies all within one tool.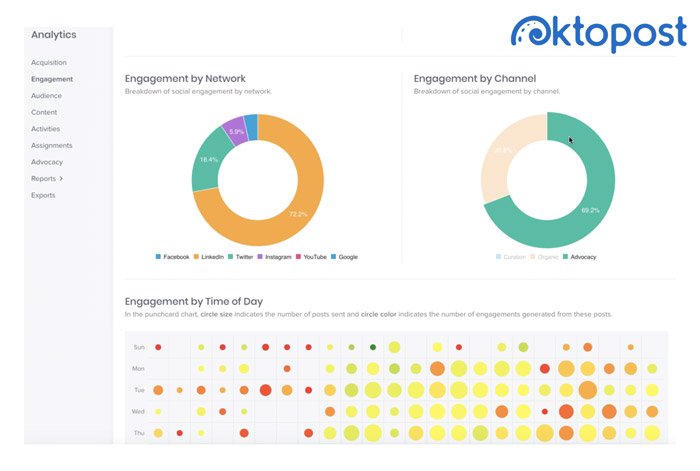 In essence, Oktopost makes it easier than ever to execute an effective Social Media Marketing strategy allowing Marketers to focus on analysing data and providing sales with the most qualified leads possible as opposed to spending time manually posting content and searching for insights.
Below we have listed some of the main features of Oktopost.
Oktopost Social Media Management Key Benefits
Organise and manage Social Content

Simplify Analysis

Track keywords, pages and mentions in real time

Easily discover Industry trends and dicsussions

Measure everything from clicks to conversions

Report on Social Media Campaign performance with ease

Plan and schedule content across social channels from one central location

Discover and share content with Oktopost's built in content curation engine

Streamline every mention, comment and DM in one place for timely responses
Oktopost Employee Advocacy Management
Employee Advocacy is another great Oktopost feature Sugar Market users can leverage out of the box.
Leveraging Employee Advocacy means allowing your workforce to get involved with social sharing and content curation. A strong and well orchestrated Employee Advocacy strategy can be massively advantageous in creating targeted content aimed directly at your organisations target customers.
For example, involving employees from different departments who harness unique sets of skills or knowledge around your products or services (technical support engineers contributing more technical content) and (sales staff contributing to more sales promotional content) – allows for a far more tailored approach to the content your organisation publishes, ultimately providing your customers with a more tailored customer experience in-line with your business as a whole.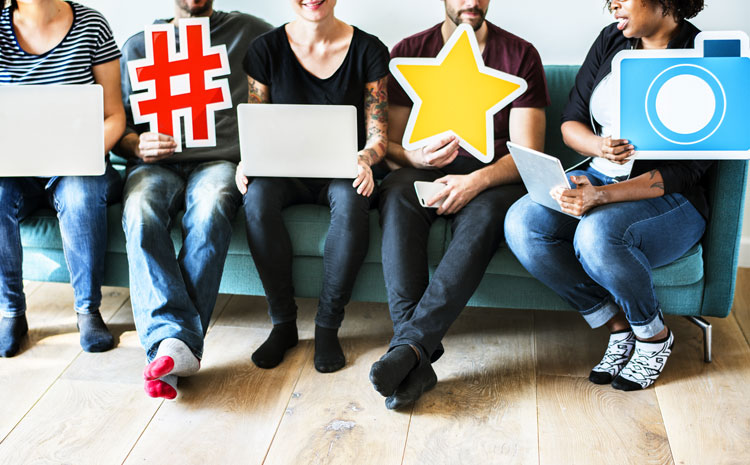 Employee Advocacy also promotes 'brand pride' and motivates your workforce to collaborate on topics specific to your industry, key customers and organisation.
The great thing about Employee Advocacy is, it can be quantified against your overall Marketing objectives to prove its effectiveness and further support Social Media Marketing ROI.
Below we have listed some of the key features of Employee Advocacy in Oktopost
Empower employees with simplified sharing across social channels

Position employees as thought leaders by sharing content relevant to their specific audience

Motivate employees with easy to view performance metrics

Quantify the contribution of employee advocacy to your overall B2B Marketing objectives

Integrate your advocacy data with Marketing Automation, CRM and Facebook retargeting initiatives
Sugar Market & Oktopost Integration
Oktopost is the only platform in the world that automatically syncs social click data to Sugar Market and assigns it to Lead Records.
This means, when a Lead engages and reacts to any of your Social Media content – Sugar Market will be populated with their Social Media 'footprint' automatically. Providing information on where they have been and what content they engaged with. This provides B2B Marketers with far better insights into how customers interact with your content – at scale, and far better opportunities to identify qualified leads!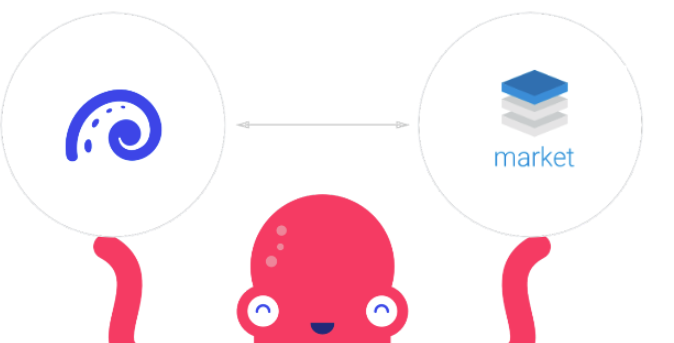 With these high level insights, Marketers are empowered more than ever to accelerate sales-qualified Leads and deliver only the most likely to convert Leads to Sales – further boosting collaboration between departments and providing management with clear proof of Social Media Marketing ROI.
Key Benefits of Sugar Market and Oktopost Integration
Automatically sync lead's social activities to Sugar Market

Accelerate sales qualified leads

Easily identify new leads

Improve customer care

Create meaningful interactions based on how customers engage with your content

Better understand Social Media Marketing ROI
Concluding Thoughts
We hope you have a better understanding of how best to manage your Social Media Marketing strategy and how this can be achieved with Oktopost and Sugar Market.
If your organisation is facing any challenges around Social Media Management or Marketing Automation schedule your Sugar Market demo for a closer look at the new standard of B2B Marketing Automation!