SugarCRM Version 10.2 (Q4 2020) has been released!
In this post, we explore the changes users should expect in the SugarCRM Version 10.2 (Q4 2020) Update.
SugarCRM's Version 10.2 update applies to Sugar Professional, Sugar Enterprise, Sugar Sell and Sugar Serve Users. If you are hosted with Sugar, you either have already or will receive this update within the next weeks.
Note: SugarCRM Version 10.2 is only available for SugarCloud (Sugar-hosted SaaS) deployments. If you are hosted on-site or with us, you will be receiving your next major release in Summer 2021.
SugarCRM Version 10.2 Release Notes
Let's take a look at the new features added to Sugar (we will highlight if any of these features have been added to the Sugar Sell, Serve, Sugar Enterprise and/or Sugar Professional edition).
Coterminous Add-Ons for Revenue Line Items
Note: Sugar Sell only.
In case you are selling license subscription based services, this will be an interesting one for you.
Quite often we see the need to make adjustments to subscription based services, e.g. adding further licenses for the remainder of the service period, without affecting the service end date.
With Sugar you can now add products and services to an existing Purchased Line Item record (representing a service the customer already bought) to support coterminous add-ons.
Additionally, if the add-on service is renewable, Sugar will automatically update your renewal opportunity and revenue line item related to the original purchase.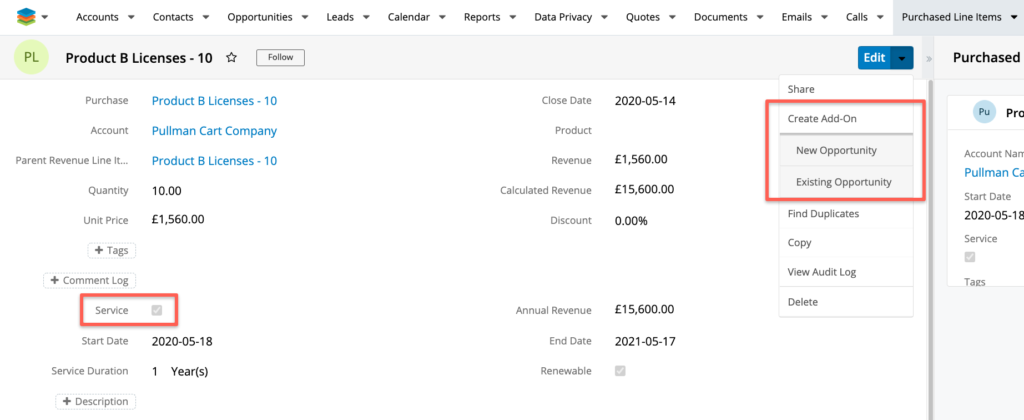 Note that the Purchase Line Item has to be marked as a 'Service' for the Add-On option to be made available.
Do Purchases and Purchased Line Items sound new to you? Check the Sugar 10.1 Release Notes for further details on these two new modules.
Either add a new line item to an existing Opportunity or create a new Opportunity. In either case, the Service End Date and Duration will be automatically calculated, leaving the Start Date for you to choose.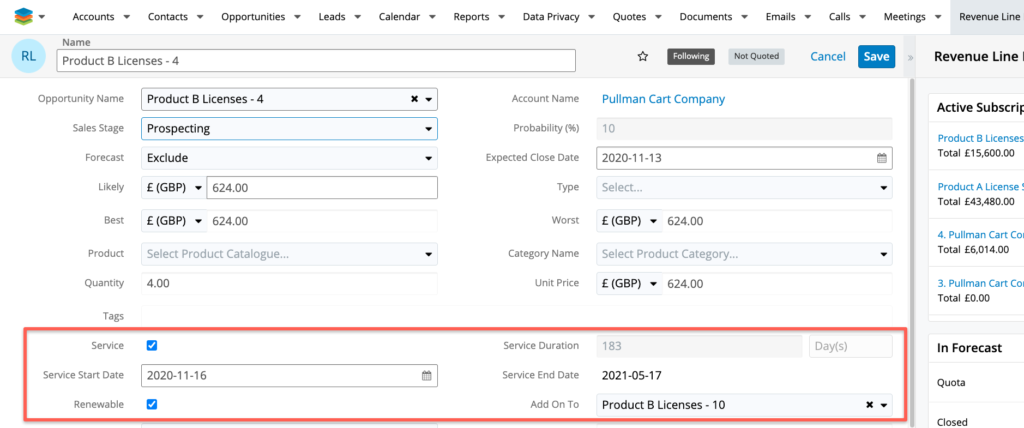 If you mark the Revenue Line Item as 'Renewable', once closed won, the add-on will be automatically added to your existing (or new) renewal Opportunity.

Note: For the two line items to merge you'll want to use the Sugar Product Catalogue and assign a product to your line items which has a default service duration set (e.g. 1 Year duration). This is to ensure that the added quantity (or line item) on your renewal Opportunity retains the same service duration. This brings us to the next new item.
Flexible service duration
Note: Sugar Sell and Sugar Enterprise features only.
Now that a service duration can be set on product level, you can specify if the service duration is locked or if users can modify the default service duration on line items.

Next to this additional feature, you now have the ability to modify the Service Duration from Opportunity Level for all service related open Revenue Line Items.

Multiple Quotes from one RLI
Note: Sugar Sell and Sugar Enterprise feature only.
You can now generate multiple quotes from the same revenue line item(s).
Group your report results by account for purchased line items
Note: Sugar Sell, Sugar Serve and Sugar Enterprise feature only.
You can now select the related account as a group-by option for Purchased Line Item reports.
Shifts and Shift Exceptions subpanels
Note: Sugar Sell, Sugar Serve and Sugar Enterprise feature only.
To view a specific users Shift and Shift Exceptions information, you can now find new subpanels in the Users and Employees module.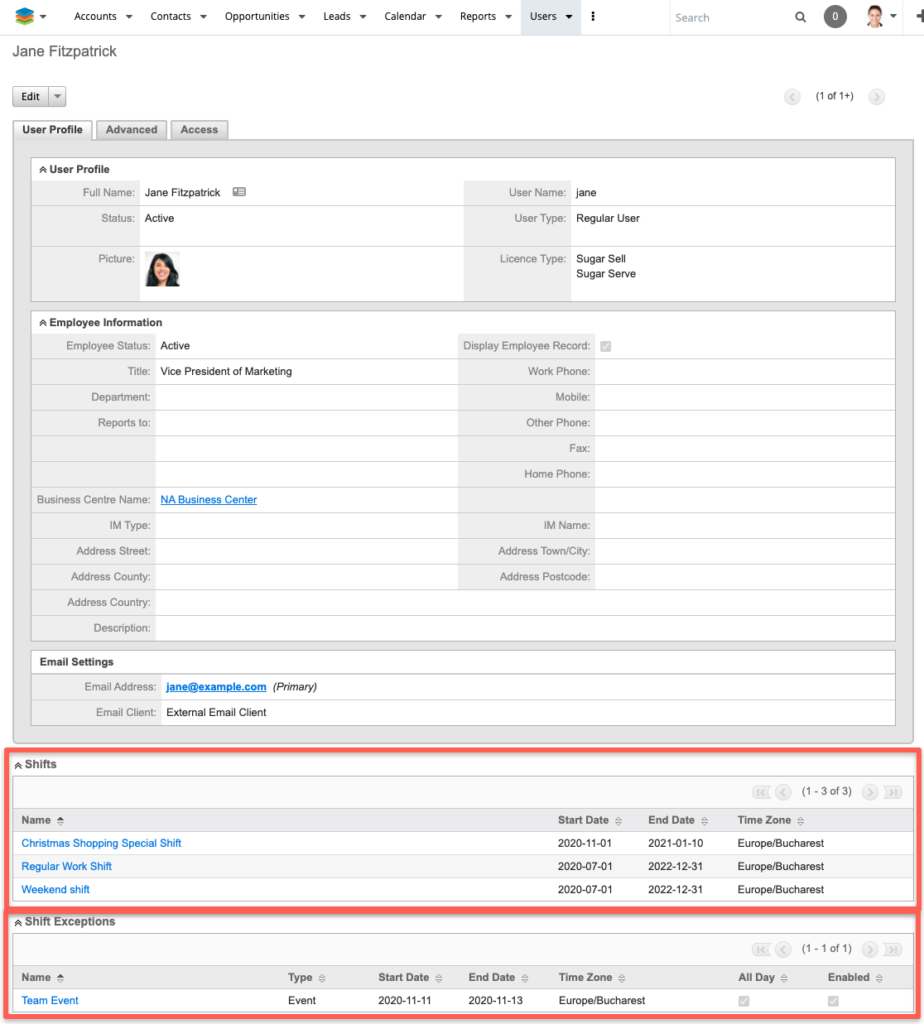 Working with Shift and Shift Exceptions is incredibly useful as it doesn't only provide other Sugar users visibility on team members working hours, timezones and days off work. This data can also be used by SugarBPM, ensuring that activities are only scheduled for when the user is at work.
Note: To access the Shift Exceptions module, you have to access the Shifts module first and open the actions dropdown list from the menu bar. Here you will find the Shift Exceptions View.

Never used the Shifts and Shift Exceptions modules before? Have a look at our Sugar 10.1 Release Notes for further details.
Dashboard Enhancements
Note: Sugar Sell, Sugar Serve and (some) Sugar Enterprise and Sugar Professional features only.
Resizable Dashlets
Dashlets can now be resized independently of other dashlets by clicking and dragging their lower corners.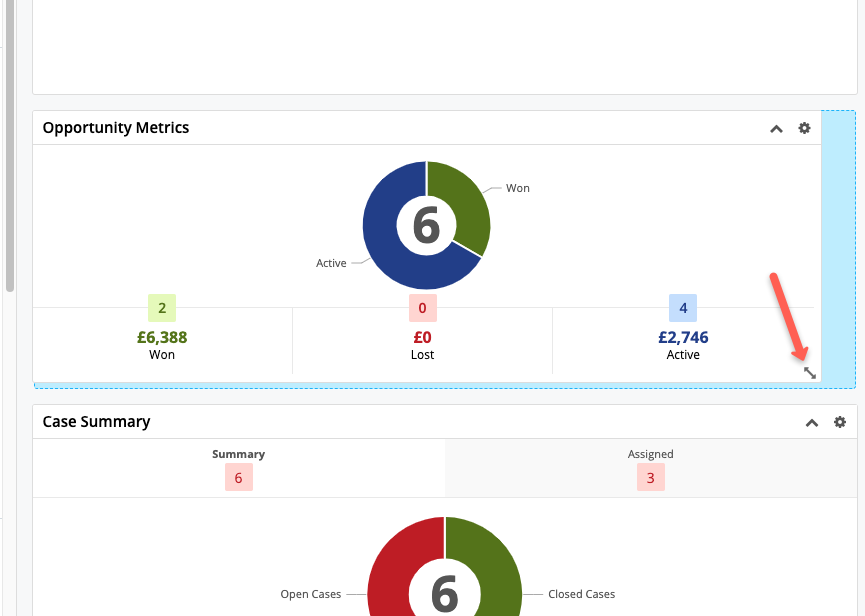 Unlimited Dashboards
Dashboards can now include an unlimited number of dashlets.
Active Subscriptions Dashlet (Sugar Sell and Serve only!)
The Active Subscriptions dashlet is now available for all record view dashboards where the module has a relationship to Accounts.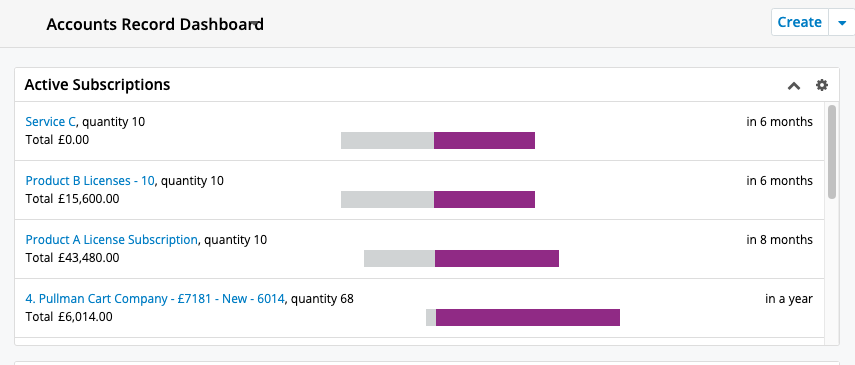 Knowledge Base Search Dashlet (Sugar Sell and Serve only!)
This dashlet can be added to any type of Dashboard. It provides the user with all Knowledge Base Articles displayed in a tree structure dashlet. Expand the tree structure to access a KB Article which will open in a new browser tab.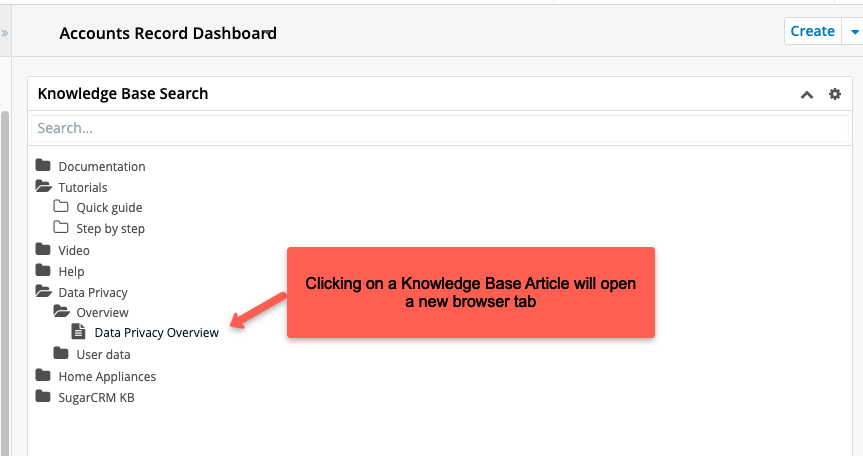 Interactions Dashlet (Sugar Sell, Sugar Serve and Sugar Enterprise only!)
What a great addition to SugarCRM's set of default dashlets!
The Interactions Dashlet can be added to the Accounts, Contacts, Leads and Opportunities Record View layout. It provides you an overview of all activities – with the most recent activities listed at the top. This includes calls, meetings, emails and notes.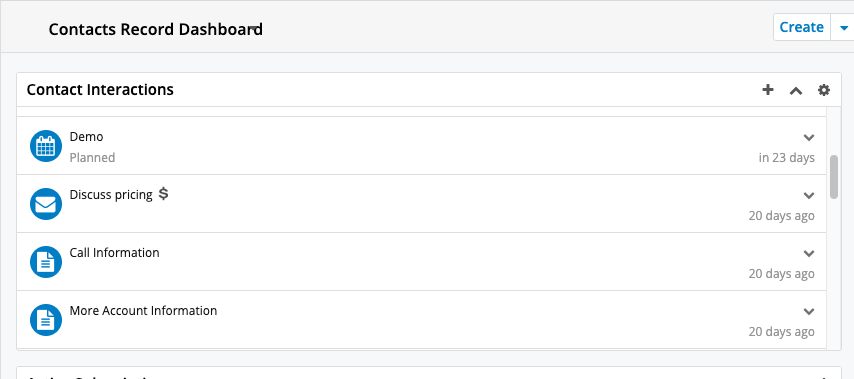 Click on an activity to reveal further details.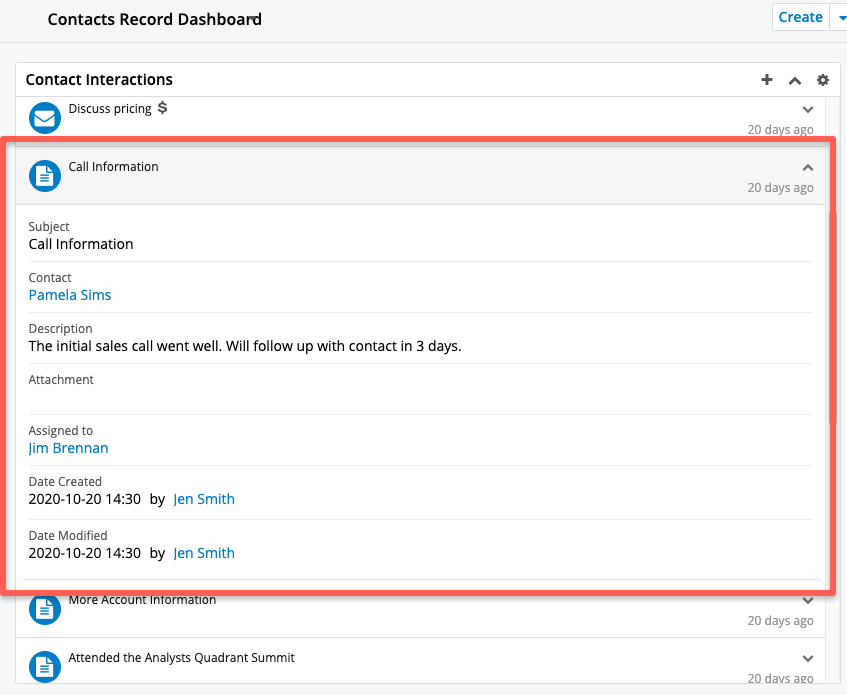 This dashlet is also available on the Account Detail and Opportunity Detail drawers of the Renewals Console.
User Interface Improvements
Note: Sugar Sell, Sugar Serve, Sugar Enterprise and Sugar Professional features.
Audit Log for Activities
Much missed, but finally back! Audit Logs for Calls, Meetings and Tasks can be enabled again. Any field that you want to include in the audit trail, simply tick the 'Audit' checkbox in Administration > Studio.
Descriptive Logic Hook Audit Logs
Audit log entries generated by custom logic hooks will now display the name of the logic hook as the audit 'Source'. This will give users a better understanding where automated changes are coming from.
Increased List View Filter limit
The default number of List View filters has been increased to 50.
Configurable subpanel columns
Where subpanel columns used to be static, you can now customise the width of each column. Same as with List View columns, the configured width will be stored in your browser cache. Additionally, you can now also add and hide subpanel columns with the gear icon.

Service-focused Enhancements
Note: Sugar Serve only.
SugarLive Contact Center Tool
Important: An Amazon Connect (similar to a chat bot) instance is required to use this feature.
This omni-channel tool uses Amazon Connect to allow customer service agents to communicate in real-time with clients while updating relevant customer data. Here are the key features:
SugarLive is available in the footer and pops up automatically when a call or chat is routed to you

When you accept an incoming call or chat, the full view opens including a panel allowing you to search for, view, and update records relevant to the customer or case

A call or message record is created for each completed conversation to track the communication.
'Request To Close' Case button in portal
A new button has been added to portal case records that allows customers to easily communicate that it is safe to close their case.

New module: Messages
The Messages module has been added to track online interactions such as instant messaging or social media.
SugarLive uses it to record the details and chat transcript of chats with customers.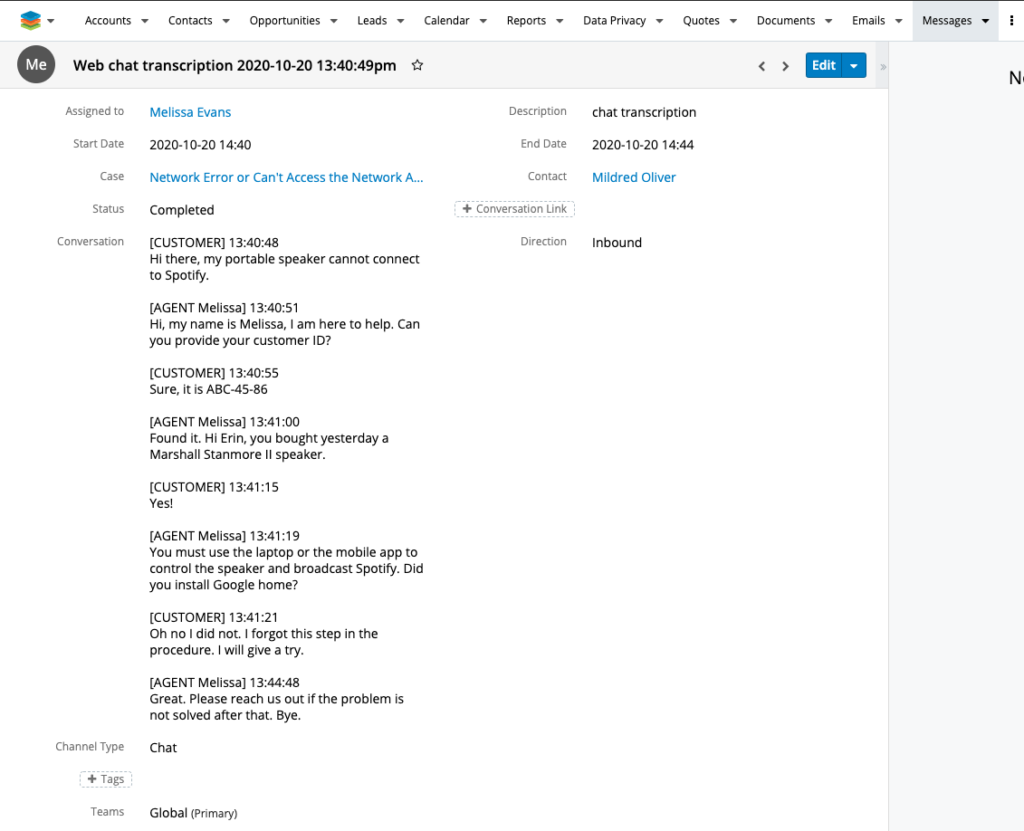 Message records are also included in the Case and Contact Interactions dashlets.
SugarBPM Enhancements
Note: Sugar Sell, Sugar Serve and Sugar Enterprise features only.
New 'is one of' operator
Where previously it has been tricky to evaluate the condition of a multi-select field by only using 'is' and 'is not' operators (with more than 5 multi-select values, the value combinations already feel endless…), we now have a new operator: 'is one of'.
We did wonder why no 'is not one of' operator was added, however you can simply replicate this condition by using the 'NOT' operator, similarly to this example: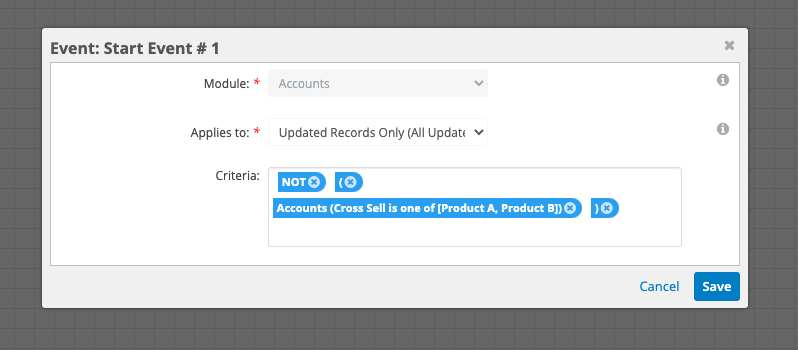 Relate fields in field evaluations
So far field evaluations could only be completed on the target module and related modules via a two-way relationship. You will now be able to use Relate type fields in Process Definition field evaluations so they can be used as a criteria in conditions.
Send message to all teams on the record
A new option has been added to the recipient list when using the Send Message and End events: 'All teams assigned to the record'. This option will dynamically add all teams on the target record to the recipient list.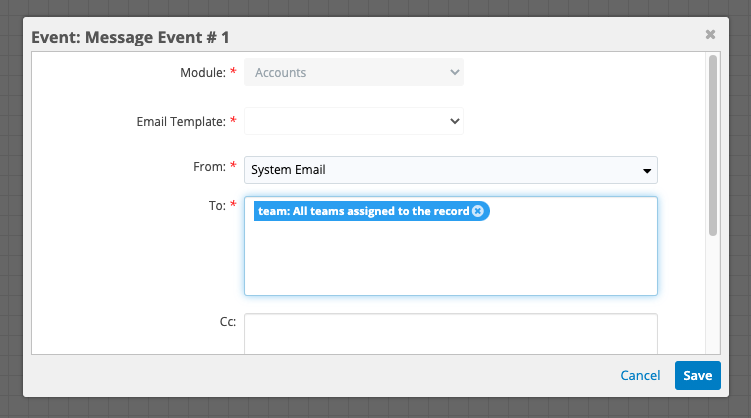 Studio Enhancements
Note:
Sugar Sell, Sugar Serve, Sugar Enterprise and Sugar Professional features
.
New field type: AutoIncrement
An auto-increment field type allows admins to add a unique numerical ID to module records. This field cannot be edited by end users as the value is auto-generated on record creation.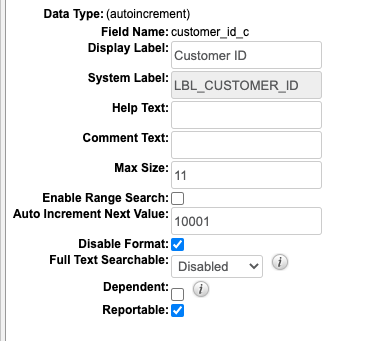 Unfortunately, there is no option to add a prefix to your numerical ID (customer numbers starting with non-numeric characters, e.g. 'SUG-10001') nor to use AutoIncrement type fields in other field calculations (such as a concatenate formula in a Textfield), however we will sit tight as we suspect this to be added in a future release!
Make a field conditionally required
Requested by many, we can now mark a field conditionally required (e.g. if an Account record is of Type 'Customer', make the Service Level field required).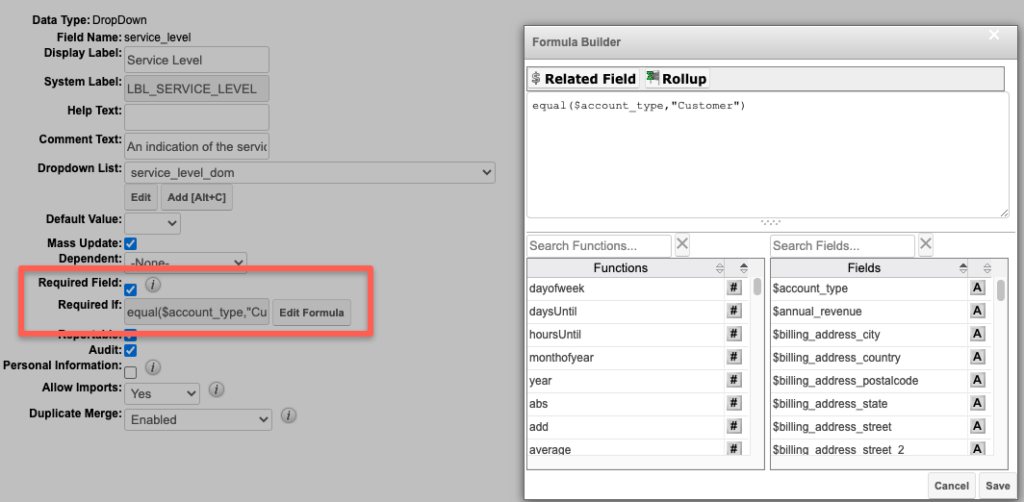 The formula logic to use is the same as setting a field dependency via a formula.
Note that you can still set a field to be required without specifying a 'Required if' condition. Simply set the checkbox for 'Required Field'. If the formula field is left blank, the field will be set as required in any case.
Sugar Logic changes
Following formula functions have been added or updated:
str_replace() : This new formula lets you replace portions of text within a string
year() : This new formula lets you return the year value from a date field
isInList() : This updated formula now lets you pass a multi-select field as a second parameter.
Admin Enhancements
Note: Sugar Sell, Sugar Serve, Sugar Enterprise and Sugar Professional features.
OAuth2 for Google Mail and Exchange Online
Sugar now supports OAuth2 connections to Google Mail and Exchange Online when configuring the system outbound email, system inbound email and user email accounts in Sugar.
Microsoft connector
Administrators can now configure the Microsoft connector via Admin > Connectors to allow Sugar to connect to the Microsoft API Services via OAuth2 to send outbound emails as well as receive inbound emails.
SugarIdentity Enhancements
Note: SugarIdentity-enabled instances only.
Change Password capability for users
A feature that will make user management much simpler going forward. The previously existing Sugar feature of changing your users password in the Sugar application has now been re-introduced for SugarIdentity-enabled instances. The Change Password option is now available in the profile dropdown menu.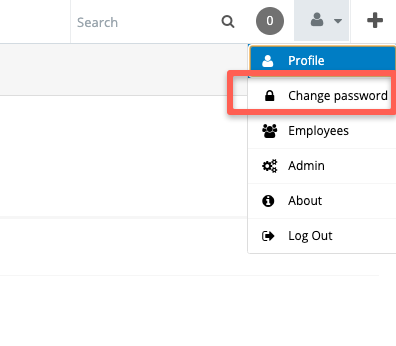 Update existing user records via import
Same with the change password feature, a previously used function from the Sugar application has been re-introduced for SugarIdentity-enabled instances: User record updates via import.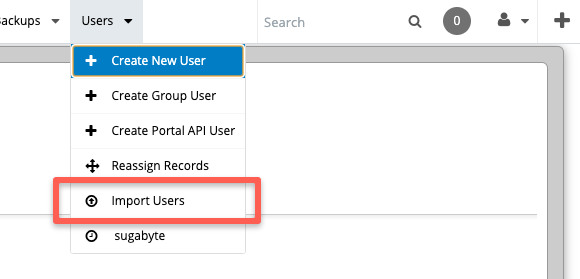 If you are familiar with the import wizard, you will very quickly see that this is Sugars standard import wizard which guides you through the various import steps.
SugarCloud Settings link
The SugarCloud Settings link is now available on the Admin page for administrators to easily access the SugarCloud Settings console.

---
Conclusion on SugarCRM Version 10.2
Please don't hesitate to contact us should you require any further information on SugarCRM Version 10.2 and we will be more than happy to help you!
Want to know what was released in Sugar 10.1 this autumn? Check out our previous blog post here:
New to SugarCRM?