Transitioning from Sugar's Campaigns Module to Sugar Market: Making the Switch
The Campaigns module in SugarCRM was first released 9 years ago and has served its purpose as a tool to send mass email campaigns directly from the CRM. But for a while, it's been shadowed by the immense power and ease-of-use of purpose-built Marketing Automation tools on the market.
SugarCRM has leapfrogged ahead of most of the competition by acquiring Salesfusion in 2019. Many months of development has rendered an industry leader in Marketing Automation, and now we see it in its current form: Sugar Market.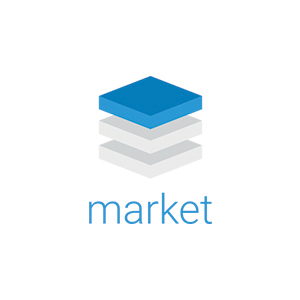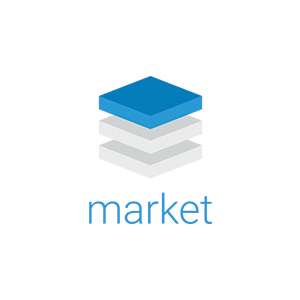 Everything in One Location
As an All-in-one Marketing Automation solution, developed for B2B Marketing. Sugar Market provides all the functionality B2B marketers require to execute, manage and report on the full spectrum of Marketing Activity. This means managing everything in one central location from Contact Forms to Nurture Campaigns, Evens and Landing Pages.
Switching between a stack of different tools with different interfaces and settings can quickly become complicated to manage. Managing various tools and strategies within one platform gives Marketers more time to focus on crafting killer campaigns!
Contact Forms

Landing Pages

Event Management (Physical & Web Events)

Social Media Post Management

Advanced Analytics

Nurture & Drip Campaigns
What Impact will Implementing Sugar Market have on our Organisation?
Managing everything in one tool makes it easier than ever to leverage advanced Marketing Automation features such as Web Tracking, Event Management, seamless Integration between Marketing and Sales while providing the ability to view the complete lead journey.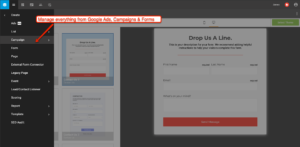 Below we have listed some of the typical benefits Sugar users see when implementing Sugar Market, particularly when transitioning from sending Mass Emails in the Campaigns Module.
Native Integration with SugarCRM
Sugar Markets deep integration with SugarCRM gives both sales reps and marketers access to detailed contact information at the touch of a button. Reps are provided with an Iframe of Marketing related lead information inside the CRM such as Lead Scores, Web Tracking History and more. Marketers are provided with a stream of information from the CRM such as when a contact changes Job Title or when an Opportunity is closed-won.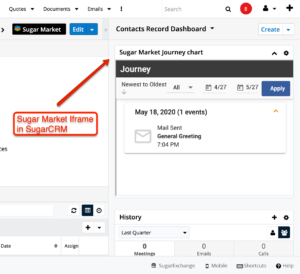 Synchronising this data between Sales and Marketing promotes collaboration and empowers reps to make more informed decisions about which deals and leads they should be spending the most time on and order of priority. While also helping marketers deliver more qualified and valuable leads to sales reps.
Give CRM Users Access to Branded Emails
Sending basic emails with the Campaigns Module can be done, but is not ideal for modern organisations who require quick access to emails, lists and campaigns. Sugar Market allows you to create branded email templates that reps can access in the CRM. This means CRM Users can easily send marketing-related emails to contacts in line with your company messaging, style and branding.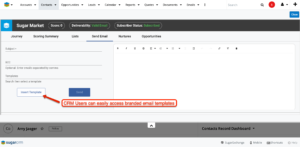 During configuration, we configure your sender and reply to emails allowing marketers to design your templates while ensuring they are delivered by the specific CRM Users email address. 
Track Leads and Contacts
With Sugar Market, you can track leads as they navigate through your landing pages and campaigns for a better understanding of their interests and intent. Anonymous leads are tracked by their IP address. This means you have a full overview of your leads footsteps prior to them providing you with their information.
As soon as a Lead gives you an email you can report on a historical perspective of their activity and understand what led them to get in contact with you in the first place.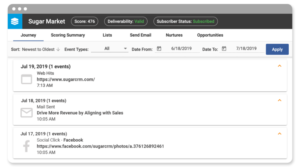 If you are not tracking Leads you are missing out on a journey of information relating to your leads interests. By tracking leads from their first point of contact to closed-won opportunity, you'll have a better understanding of your campaign performance and sales/marketing process in general.
Why have Sales received this Lead?
One of the most common questions sales reps ask is "Why have I received this Lead?". Delivering this information to reps at scale can quickly become time-consuming and challenging for Marketers. Lead scoring with Sugar Market allows you to create detailed Scoring Profiles based on the value of a lead, for example, a lead that has clicked on a link in an email or visited a landing page can be automatically assigned a score accordingly showing they have performed a particular action of value.
This gives reps a full overview of why a Lead is considered qualified by Marketing – allowing reps to make more informed decisions. While strengthening the relationship between Marketing and Sales by providing a constant stream of information in real-time between the two functions.
Concluding Thoughts
Many of our customers are seeing the value in Sugar Market and have decided to make the switch from sending mass emails using the Campaigns Module to leveraging a fully-fledged Marketing Automation solution.
There are tonnes of features your organisation could be leveraging and vital information both Sales and Marketing teams could have access to making their jobs easier and helping them reach targets quicker.
For a closer look at Sugar Market click the link below to schedule a free Demo!