Hello, I'm Rhiannon and I have recently joined Sugabyte as a CRM Solution Sales Assistant and as part of my SugarCRM onboarding process, I'm going to share with you my first impressions on some of the core products and services available to you in the form of an 11-part mini series. I'm hoping this exercise will not only help me document how this platform appears to a new user, but will also give you some insight into some of the best tools that Sugar has to offer.
Part 3: Sugar Market
This post is all about Sugar Market, a Marketing Automation platform that allows its users to take interactions with prospects and their customers to a whole new level. Focusing on what is important to marketers – increased engagement from quality leads using smarter and more precise campaigns, fewer "blanket posts" and instead replacing with highly targeted, thoughtful, and creative content to help drive revenue.
Sugar Market is an excellent multi-channel marketing solution that really comes to life when it is integrated with SugarCRM, particularly Sugar Sell. This integration creates real-time connections between new and existing records, keeping track of the entire customer lifecycle.
For the marketing team, they can now leverage the data inside the CRM to create highly targeted 'lists' or 'segments' of Contacts to market to. For the sales team working in CRM, they now have visibility of interactions with email campaigns, website activity and events to clearly understand intent and behaviour scoring.
What impressed me?
There were a lot of features inside Sugar Market that as a previous Marketing Manager, impressed me. I'm going to begin with the interactive dashboards – a common feature among Sugar's products but surprisingly not something that is found on most marketing tools. Sugar's dashboard customisation through its "dashlets" is second-to-none, a user can truly be empowered with the information they may want to analyze in real-time through either "out-of-the-box" information Sugar has pre-calculated or through the detailed reporting system found in every Sugar product.
Dashboards or homepages that I have seen in the past have offered a somewhat useful but static dashboard, already predicting what the user would like to see first. Not all companies will be focusing their marketing efforts towards the same information and within an active marketing team, strategies will often change and attention will divert to other campaigns which is why Sugar's presentation-ready dashboard is the perfect solution for a more intuitive visualisation of your data story.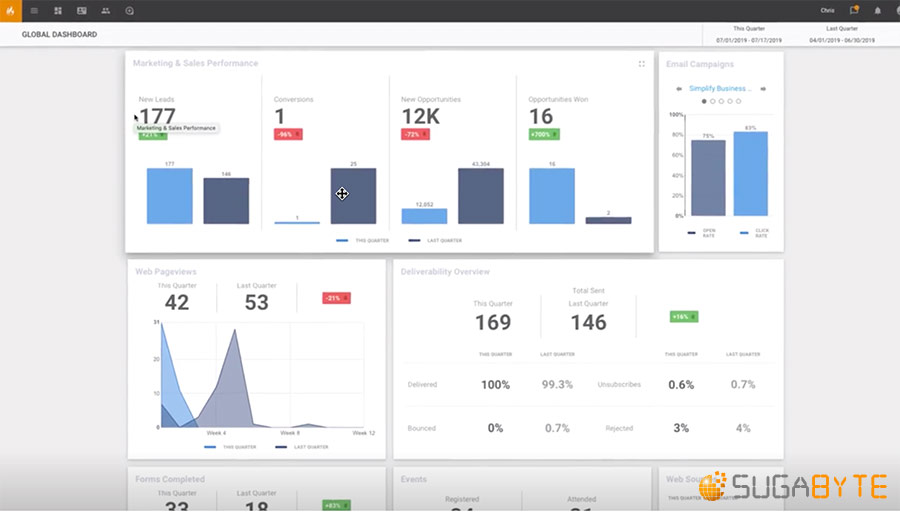 Secondly, I was impressed with one of the larger features within this platform – Nurture Campaigns. Lead nurturing and automation is an extremely efficient and productive way to interact with potential customers to any marketer and Sugar has clearly recognised this. Their nurture campaigns cover all the basics of tailored marketing in a straight-forward way however, what makes their campaigns superior from competitors? The information gathered on each record is not then isolated in that one system; through the CRM integration, the entire team will have access to each customer journey and by providing actionable lead intelligence particularly to your sales team, you can effectively shorten the sales cycle and win more deals.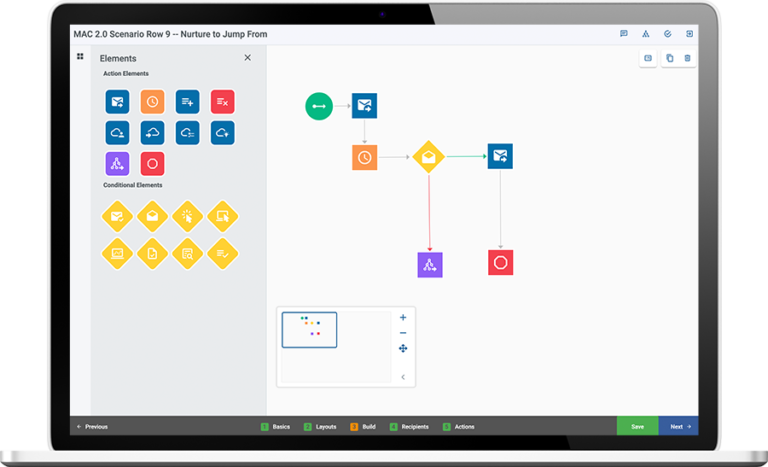 How will this help our new customers?
Sugar Market not only provides a curated toolset to be able to offer custom campaigns to future prospects but recognises a need to be flexible and tailored to the individual marketing user as well. New customers will certainly benefit from its advanced multi-channel marketing solutions including web monitoring, social media management, reporting, SEO audit, campaign creation and lead capture capabilities but I think we know who the real winner is here: CRM integration.
New customers will want to see which strategies are working and which ones are not and with CRM integration, this process can be done quickly so they know where their resources are best placed in return for maximum return on investment for every penny spent. The implementation of these highly targeted campaigns will reach out to prospects and customers at the optimum time to help convert these superior customer experiences into lifelong relationships.
I hope you'll enjoy these insights from my onboarding at Sugabyte. Here are the links to the successive posts in this series which will uncover my thoughts on Sugar Serve, Customer Journey Plugin, Sugar Discover and more:
SugarCRM SugarLive (Coming Next!)
Sugar Discover (coming soon)
Sugar Connect (coming soon)
Sugar Mobile (coming soon)
Customer Journey Plugin for Sugar (coming soon)
Sugar Integrate (coming soon)
Hint! (coming soon)
LinkedIn Sales Navigator Plugin (coming soon)