Spreadsheets are handy for housing and organising data and are certainly a step up from folders, filing cabinets and rolodex's but in 2021, they are not without their shortfalls.
Manually entering data into all your spreadsheets is eating into your employee's time which is actually taking them away from selling and taking care of your customers. Chances are, between switching from different windows, pieces of paper, emails and other systems, some of this key important customer data is also being lost in the process! If this is the case, you'll notice your sales cycle getting longer and longer or even be losing more deals than ever.
In a customer experience driven marketplace, you need to have your teams working together to be able to properly understand your customers journey with your company. Attempting to get your employees to work collaboratively by sharing spreadsheets with multiple people actually makes your data more vulnerable and open to mistakes. Not only will you find yourself in a "too many cooks" situation but more importantly, you are putting your most prime and sensitive data at risk of being lost, copied or distributed outside your organisation.
If any of this sounds familiar, it's definitely time to start thinking of moving over to a CRM.
How can SugarCRM help?
Keep all your information in one place
With SugarCRM you can consolidate all those spreadsheets into a single, detailed view of all your data that is easy to find, filter and track. Our "low-touch" platform means goodbye to the days of mass manual data entry and copy and pasting with smart integrations with your other applications and archiving options. This ensures that your data is accurate and you won't need to cross reference with each employee in order to have a complete picture of your business. You will also be able to increase productivity by automating some of your business processes to minimise repetitive tasks and speed up your sales cycle.
SugarCRM is also a web-based system meaning you can access it from any device, anywhere. The Sugar Mobile app for smartphones and tablets also features offline sync capabilities so your team can still access all the information they need, even without any signal!
360 degree view of your customer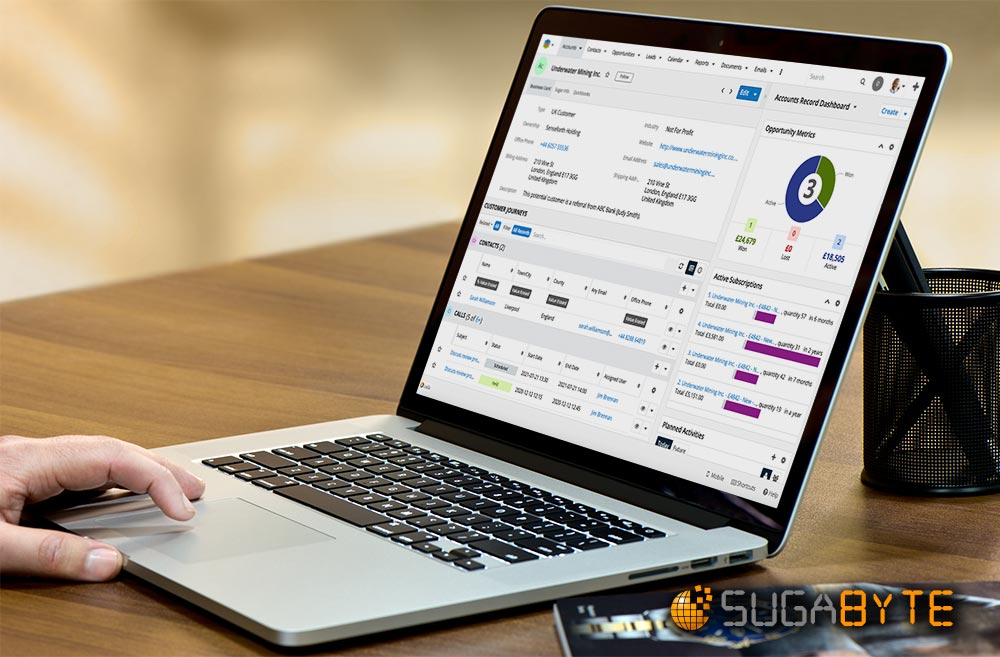 Track every email, phone call and meeting with your customer in one place. SugarCRM can chronologically hold all your past and present interactions and keep a history of your customer relationship, equipping your team for future conversations and sales deals. Each record will be enriched with information so they'll be no more embarrassing phone calls trying to scramble through spreadsheets to identify the customer, what they've bought and what issues they've had.
This once static data can then be transformed into meaningful metrics using the reporting module that can quickly identify insights to help monitor performance and aid business critical decisions.