Hello, I'm Rhiannon and I have recently joined Sugabyte as a CRM Solution Sales Assistant and as part of my SugarCRM onboarding process, I'm going to share with you my first impressions on some of the core products and services available to you in the form of an 11-part mini-series. I'm hoping this exercise will not only help me document how this platform appears to a new user but will also give you some insight into some of the best tools that Sugar has to offer.
Part 2: Sugar Serve
This post is all about Sugar Serve, a supercharged UI for support professionals to solve customer issues with speed and ease. It is a powerful, process-driven system pre-integrated with Sugar's core CRM to deliver unified customer satisfaction. It allows for omnichannel entry points for customers to raise issues with you – which can only be good for the customer.
What impressed me?
There are multiple parts to this system that I like that are linked to The Service Console which gives support staff access to complete customer information at their fingertips. Unlike most other systems that will order support tickets based on the order they came in or by priority, the reason I like this Service Console in particular is because it reiterates Sugar's customer experience ethos by prioritising the list of cases by SLA.
I was listening to David Campbell, VP in Product Marketing at SugarCRM, in a Sugar Serve training video who said:
Another item I was impressed by is the quick access to the Knowledge Base module which has a series of articles that could be helpful for solving common customer problems. This is an incredible addition that can be found across the entire Sugar product range but I think is particularly useful for support agents to have access to and contribute towards.
A notable mention from Sugar Serve is the thoughtful addition of managing multi-region business centres with their related business hours and holidays to ensure service level agreements are always met:
How will this help our new customers?
When you click on a case in the Service Console, without diverting you away, an intelligence pane opens outlining all the information a support agent would need to understand the customer's journey including account details, case details, comment log for team collaboration, and interaction history.
A huge challenge in this sector is making sure the agent is fully aware of the customer's relationship with the product offering in order to offer a rapid response. It is then possible for service agents to cross or upsell in accordance to the accounts' needs that they can clearly identify in front of them, taking customer service from an expense to a profitable part of the business.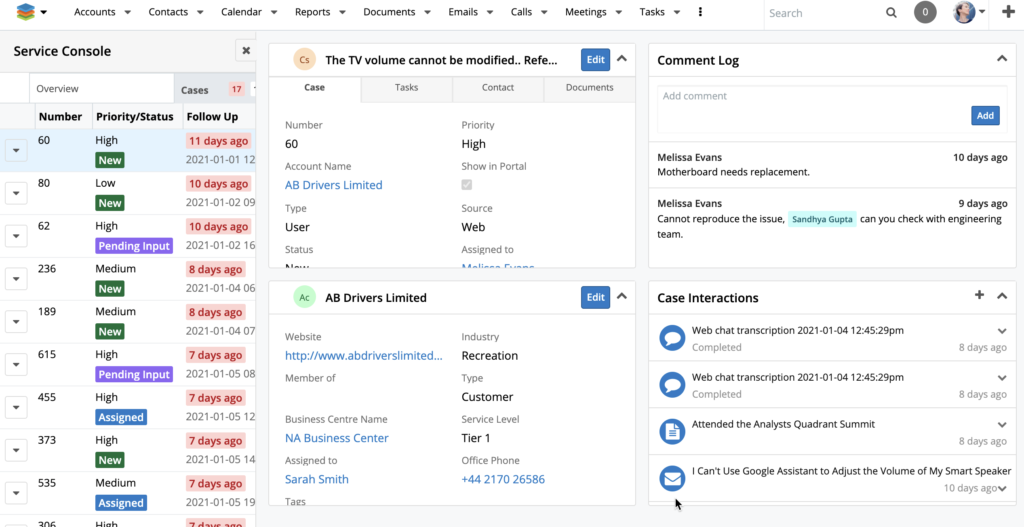 In my opinion, Sugar has expertly found ways of reducing customer service costs without cheapening the provided service but instead, increasing customer satisfaction and likely retention rates. There are a number of self-service options available to customers which helps them find a solution to their problem without the need for an agent, saving both customer and agent time.
Where Sugar Serve differs the most between the dedicated case management tools (Zendesk, Freshdesk, Jira) is the integration to the CRM. Sugar Serve functionality is completely baked into the core CRM product, so it could not get any tighter. And this allows for that instant visibility for CRM users and unlimited contextual data to be available for the support team.
I hope you'll enjoy these insights from my onboarding at Sugabyte. Here are the links to the successive posts in this series which will uncover my thoughts on Sugar Market, Customer Journey Plugin, Sugar Discover, and more:
Sugar Market (coming next)
SugarCRM SugarLive (coming soon)
Sugar Discover (coming soon)
Sugar Connect (coming soon)
Sugar Mobile (coming soon)
Hint! (coming soon)