Hello, I'm Rhiannon and I have recently joined Sugabyte as a CRM Solution Sales Assistant and as part of my SugarCRM onboarding process, I'm going to share with you my first impressions on some of the core products and services available to you in the form of an 11-part mini series. I'm hoping this exercise will not only help me document how this platform appears to a new user, but will also give you some insight into some of the best tools that Sugar has to offer.
Part 1: Sugar Sell
This post is all about Sugar Sell, a low-touch customer relationship management platform that expertly drills into your sales cycle to form a collaborative and customer orientated solution. Using actionable data, Sugar Sell transforms stale, "faceless" customers into lifelong relationships with enhanced profiles.
What impressed me?
In my opinion, two of the main features that sets this CRM apart from the competition is a business process automation function called SugarBPM and an advanced reporting module that gives users a range of quantifiable, customisable and detailed insights into the business activities.
Starting with SugarBPM, I feel this is an important tool as it directly resolves what most companies may seek initially to use a CRM for – saving time by reducing the amount of manual data entry and increased interaction with customers essentially reducing costs and streamlining the selling process.
By virtually automating any business process such as lead routing, quote approvals, and email notifications, you can successfully reduce manual effort whilst maintaining that all-important regular and personal communication with each customer.
The reporting module gives context and insight into any aspect of your business through "out of the box" reports created by Sugar or by custom reports built by you. There are four varying types of reports so users can display their information in the best way possible. Team members in leadership positions will find this particularly useful when making important business decisions, strategizing, and monitoring success.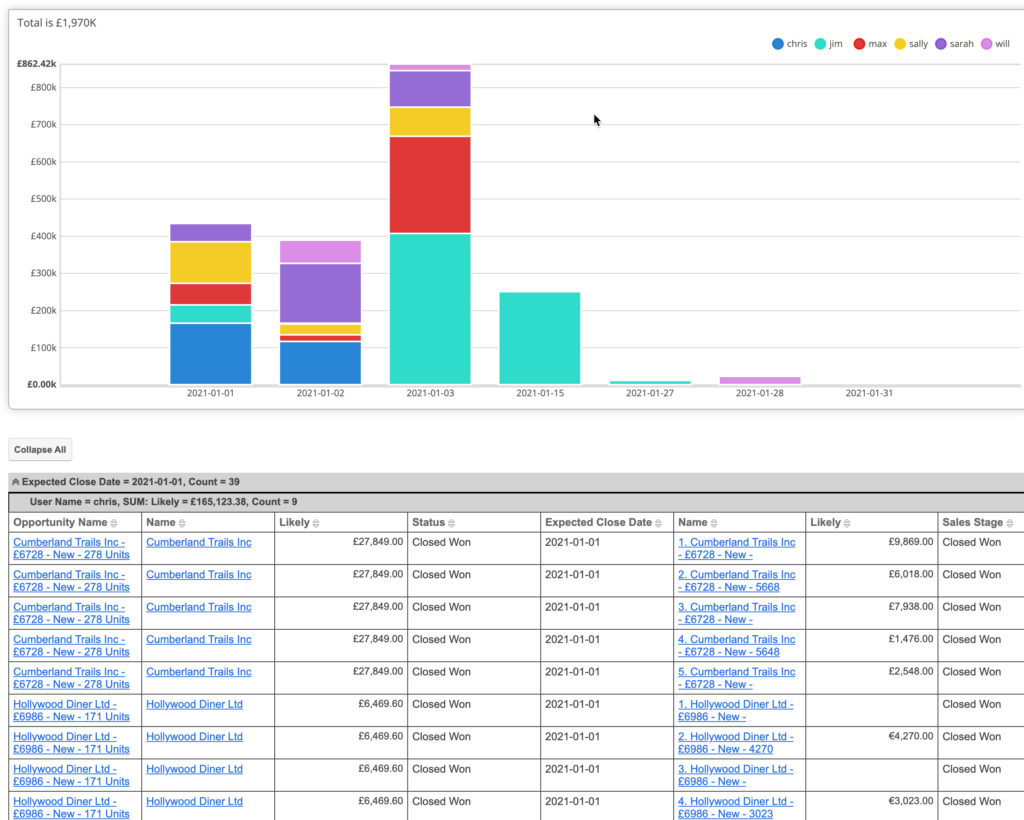 SugarCRM's goal is to bring organizations together collaboratively so that every user is on the same page and the reporting module is a perfect example. Any report that has been created can be shared with other Sugar users, printed, emailed, exported or used in a "dashlet" on the home dashboard for quick and regular viewing.
How will this help our new customers?
Sugar Sell is a CRM that works for you and not the other way around bringing important customer data to the forefront. It has been thoughtfully designed to enhance the customer experience by bringing people to work together and revealing the whole picture, strengthening existing customer relationships and helping to create new ones.
New customers will not only have access to past and present data, but sales forecasting is also one of SugarCRM's impressive functions, bringing time and date sensitive data into a predictable format for you to perfect your sales cycle and bring important visibility to the business.
I hope you'll enjoy these insights from my onboarding at Sugabyte. Here are the links to the successive posts in this series which will uncover my thoughts on Sugar Serve, Customer Journey Plugin, Sugar Discover and more:
Sugar Serve (coming next)
Sugar Market (coming soon)
SugarCRM SugarLive (coming soon)
Sugar Discover (coming soon)
Sugar Connect (coming soon)
Sugar Mobile (coming soon)
Hint! (coming soon)