In this post we delve into the details of Sugar Market, SugarCRM's all-in-one marketing automation software.
What is Marketing Automation?
Marketing Automation evolved from traditional email marketing techniques and focuses on using software to automate manual marketing processes (email campaigns, social media posts, ad management and more).
Automating gives marketers the power to react and respond to real-time lead/contact data based on triggers and/or conditions.
An example of this is, if a prospect clicks a link in an email campaign to read more about 'red apples'. Sugar Market can be configured to automatically follow-up with a string of nurturing emails relating to 'Red Apples' – (read more in the lead-scoring section below).
Essentially, Marketing automation allows users to provide a more personalised customer experience resulting in more leads, better engagement, better campaign tracking and an increase in customer retention.
"Marketers who implement marketing automation increase their sales-pipeline contribution by 10%" – Forrester Research – Lead-to-Revenue Management
How can Marketing Automation help my organisation?
Drip feed content based on conditions or triggers
Retain and extend relationships with current customers through up-selling, cross-selling and automated content
Less staff overheads
Increase and accelerate sales process
Improve marketing ROI
Sugar Market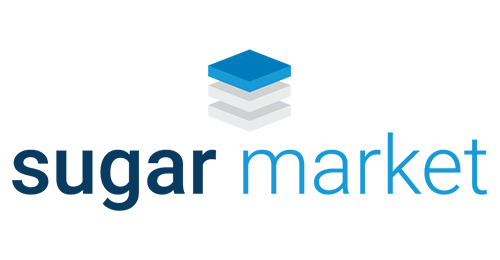 Sugar Market offers the same ease of use, intuitive user interface and drag and drop design elements as some of the less feature-full marketing automation tools such as MailChimp and Unbounce. While also providing more advanced features like CRM integration, advanced reporting, Google Ads integration and nurture building functionality – found in more costly, adoption intensive software, such as Oracle and IBM.
Ease of Use & Scalability
Sugar Market boasts an intuitive user interface making it quicker and simpler than ever to migrate data, map fields and setup automations.
The campaign design tool is user friendly with an easy to follow setup path. Sugar Market provides a range of contact form and email templates with mobile responsive design and preview functionality ensuring your campaigns are optimised for both desktop and mobile.

Why is this important?
User friendly
Scale with your business
Intuitive campaign builder means better campaigns delivered quicker
Pre-loaded email and contact form templates
Create Customers For Life
It is far more cost effective to hold, up-sell and cross-sell to an existing customer than it is to acquire new ones. Where traditional email marketing techniques focus on customer acquisition, marketing automation offers far better customer retention capability. Personalised marketing communications strengthen the overall customer experience, Sugar Market focuses on creating customers for life, anticipating and fulfilling needs before your customers realise them.
Why is this important?
Increase customer retention rates
Understand customers need before they do
Increase up-sell and cross sell rates
Increase customer loyalty
Increase customer recommendations
Lead Scoring
Lead scoring allows users to set scores based on how prospects interact with campaigns. For example, a point can be added to a contacts lead score every time they open an email and 5 points added for every time they click a link in an email. Once a contact reaches a specific score a trigger can be added to enter that contact into an automation based on their interaction and likelihood to convert.
Lead scoring allows marketers to better understand which leads are more likely to convert – at scale. In turn, strengthening collaboration between sales and marketing by ensuring sales reps prioritise the highest scoring/most likely prospects to convert.

Feature Overview
Score leads at scale
Score leads based on likelihood to convert
Better understand your prospects/customers
Strengthen collaboration between departments
CRM Synchronisation
Sugar Markets CRM Synchronisation dashboard gives users leveraging Sugar Market and Sugar Sell the ability to capture information at critical points in the customer journey, while giving marketers the necessary tools to identify the most qualified prospects to target their marketing efforts towards.
Feature overview
Align marketing and sales effortlessly
In-depth user dashboard
Share lead information between teams
Track potential customer errors or issues
Complete and current prospect/lead data
Google Ads Integration
Sugar Market integrates with Google Ads, this allows marketers to quickly create and launch Google Ad campaigns without leaving the Sugar Market platform. This aids in eliminating the need for 3rd party marketing agencies and offers an intuitive familiar Google Ad building experience while ensuring everything is stored in one central location.
Feature Overview
Leverage machine learning for automated campaign optimisation and bidding
Integrate with Google Page Builder for insights into click and conversion performance
Eliminate the need for in-house expertise or third party agencies
Exclusive to SugarCRM users?
Sugar Market is an advanced, stand alone cloud based marketing automation solution. Sugar Market provides further advantage through integration with CRM and is not exclusively available to SugarCRM users. Sugar Market offers native integration to seven leading CRM's with real-time syncing; Sugar Sell, Professional and Enterprise, Sage CRM, InforCRM, Microsoft Dynamics, Netsuite, Bullhorn and Salesforce. 
Sugar Market users leverage Sugars Amazon Web Service (AWS) partnership. The cloud partnership between SugarCRM and Amazon aid in the swift delivery of new functions, leveraging a market leader in cloud hosting, providing users a secure, scalable solution aligning security and performance seamlessly.

Key Points:
All features included/no restrictions
Embedded reporting module
Intuitive user interface
Unlimited custom fields for advanced segmentation
Native integration to seven leading CRM's with real-time syncing
CRM Synchronisation
Support enterprise requirements, auto-scaling servers, international data centres
Unlimited free support
In-house marketing expertise
In Conclusion
With Sugar Market costs are clear and upfront. All advanced marketing automation features are included as well as unlimited support as standard. Customers who choose to leverage Sugar Sell and Sugar Serve along with Sugar Market get a complete customer view at a fraction of the cost of any other high-level marketing automation solution.
We hope you have a better understanding of Sugar Market and the benefits of automating your marketing processes. No matter where you are in your marketing journey, the best way to realise your challenges and pain points is with a free consultation call with one of our expert consultants. We ensure you get the most out of your Marketing Automation project through our requirements workshops, analysing your business processes and goals – resulting in the most effective Marketing Automation solution possible, benefiting your whole organisation.