An approve/reject process references to a moment within a Process Definition where a user must decide if a certain element is approved or rejected. The remaining path the Process Definition will be dependant upon the outcome of the decision. This article is applicable to customers of SugarCRM using the Enterprise edition which includes the Advanced Workflow tool.
Example Workflow:
An example of where this may be used within an Organisation is when a discount is to be applied and depending on the discount amount approval is required.
Example: The example workflow below demonstrates: if a new Quote is created with a discount of 1k or above then this required approval by Jim. If the discount is below 1K then no approval is needed and so the flow comes to an end.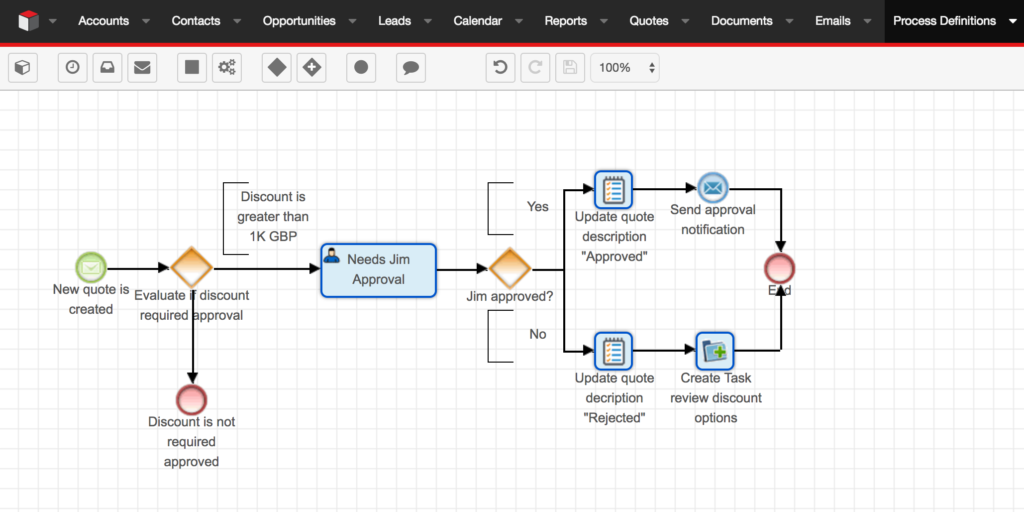 When a record requires a users approval/rejection then this will display in their Processes List View or it will show in the Process dashlet.
The user can then formally indicate their approval or rejection by executing the process. When the user executes the process an Approvals Action menu will show in the record.

Please note: The action menu will only display when the record is accessed by the Processes dashlet or Processes List View.
From the Action menu the user has the following options:
Approve – This will allow the process to continue along the approval path
Reject – This will allow the process to continue along the rejection path
Edit – Edit the fields on the record that needs to be approved
History – See the timestamped history of all transitions, user engagements and automated occurrences of the record
Status – Display an image of the overall Process Definition
Add Notes – Add in a note for users that will later engage with this process. Also, review any notes left by previous users.
The Process will be removed from the users' Processes List View or Dashlet once the user has completed the action of approving or rejecting.
Sugabyte offers admin training courses specifically tailored around Advanced Workflow in SugarCRM.  Visit our training page for more information.