What will we cover in this post?
In this post we cover SugarCRM's new Renewals Console and the new Renewals Management features in Sugar Sell.
Sugar CRM's new Renewals Console

New Feature – Duration Based Products

New Feature – Automated Renewals Management

New Feature – Active Subscriptions Dashlet
Who is this post for?
This post is for organisations selling subscription based or renewable products/services – with a focus on automating and streamlining the renewals process.
It is far more cost effective to hold on to current customers than it is to convert and win deals with new customers. Better Managing and streamlining the renewals process is vital in ensuring customers with renewable contracts stay with your organisation year in, year out – giving your organisation great advantage over the competitors in your space.
Users new to Sugar Sells new Renewals Management features

Organisations keen to streamline the Renewals process

Organisations keen to automate the Renewals process

Organisations selling subscription based products/services

Organisations providing renewable products/services

Organisations providing Duration based services
NEW RENEWALS CONSOLE
The first notable renewals related feature from Sugars 9.3 Winter' 20 release is SugarCRM's New Renewals Console.
The Renewals Console can be accessed by clicking the Cube icon's down arrow and selecting "Renewals Console" from the menu.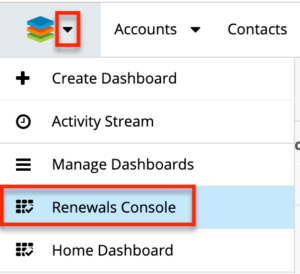 SugarCRM's New Renewals Console provides users with a clear overview of all renewable contracts and opportunities. Streamlining the renewals process and displaying all vital information in one place, in turn – making it is easier than ever to manage and sell renewable based products and services.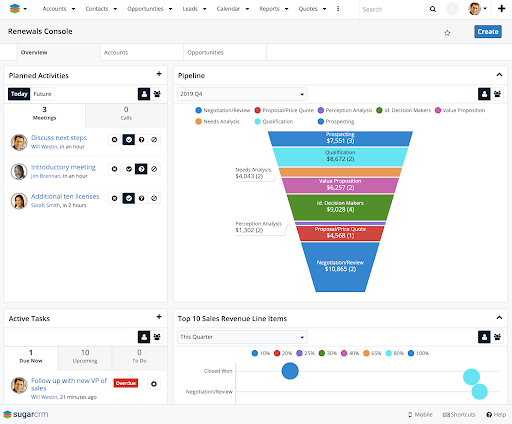 The console is delivered as a homepage Dashboard Working Environment within Sugar Sell. There are a number of powerful features within the console that empower staff in easily managing and closing opportunities in the renewals pipeline.
For example, the addition of several new dashlets to help with Renewals Management and shortcuts that display vital subscription information at the touch of a button.
Feature Overview
The Overview tab contains several dashlets that help users plan their current work.

The Accounts tab displays the user's accounts with those having a pending renewal at the top of the list, sorted by the date of the next renewal.

The Opportunities tab displays the user's open opportunities sorted by the expected close date with overdue opportunities shown first.

Clicking on records in the console opens a drawer where you can review subscriptions and related records and activities, log progress, and communicate with customers.

The console can be configured to modify its dashlets and, for the Accounts and Opportunities tabs, change each list's filter and sort order.
ACCOUNT DETAILS DRAWER
Clicking an account's row in the Renewals Console opens a drawer that aggregates information about the account, its related records, past interactions, and active subscriptions.

The Account Details drawer contains four new dashlets:
The Account Record Dashlet

Comment Log Dashlet

Active Subscriptions Dashlet

Account Interactions Dashlet
You can quickly choose which Account's details you would like to display by selecting a different row from the list displayed on the left hand side of the console.
When you have completed your tasks, simple click the X icon at the top left of the drawer or press (esc) on your keyboard to navigate away from the drop down drawer.
ACCOUNT RECORD DASHLET
By default the Account Record View dashlet is the first dashlet option within the Account Details drawer. The dashlet is configured to display the account you are currently viewing as well as additional tabs containing related records.
The Account Record dashlet is a trimmed down alternative to an account's detailed record view. Important subpanels display content via additional tabs, making it easier to navigate through important renewal opportunity information.
Clicking an individual field or selecting 'edit' mode – will allow you to edit the account record directly in the dashlet.
Once you are finished editing, click Save to preserve your changes!
COMMENT LOG DASHLET
The Comment Log dashlet displays entries from the account's Comment Log Field in chronological order – with the most recent entry on top. 
Users can quickly create new entries by entering text into the open text box and adding a new comment.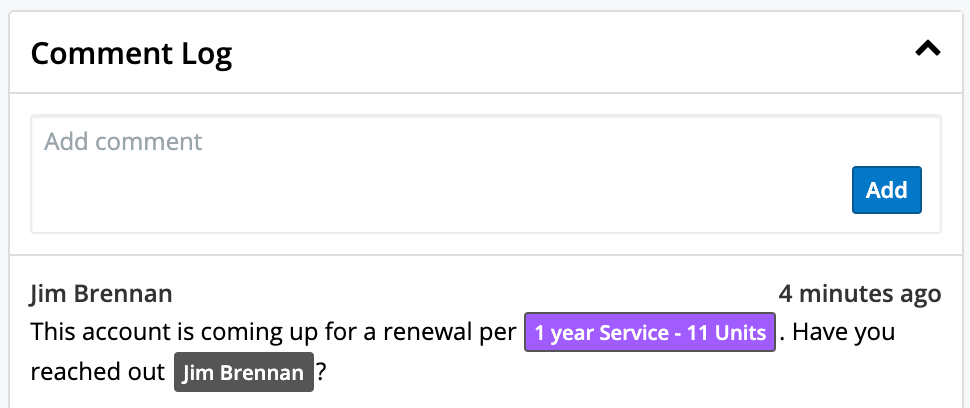 ACTIVE SUBSCRIPTIONS DASHLET
The Active Subscriptions Dashlet displays a simple bar chart visualisation for time elapsed and time remaining on subscription services related to your Accounts 'closed won' service opportunities.

Simply hover your mouse over a bar to view important details such as expiration date and subscription 'Start' and 'End Date'.
The

Active Subscriptions dashlet

can be added to the Account record view dashboard and shows a list of all of the current account's revenue line items which are in a "Closed Won" status, marked as "Service", have a start date in the past, and have an end date in the future.

Support for negative "Likely" values, which can be used for credits or price adjustments, has been added to the Revenue Line Items module.

Enhancements for Interactions dashlet

Users can now click anywhere within an interaction's row to expand or collapse the rows in the

Interactions

dashlet. 

The

Interactions

dashlet is no longer filtered and now displays all (i.e. scheduled, held, canceled) calls and meetings related to the record being viewed.
DURATION BASED PRODUCTS
Sugar Sell Users can now add duration based products and services to the products catalogue.
This means users can add products with defined start and end dates i.e. 'Annual Service Contracts' to Opportunities and Quotes, as well as defining whether a product/service is or is not renewable.

Duration based products extend the functionality of Renewals Management in Sugar Sell massively and are a key element in the Renewals Automation process.
This feature typically requires heavy customisation to be achieved with other CRM's – the fact that Sugar have built this in to Sugar Sell as a standard out of the box offering is a huge advantage for organisations keen to automate the renewals process and create Customers For Life!
Feature Overview
Service products, subscriptions, and other duration-based products can now be added to the product catalog and added one-off as revenue line items and quoted line items.

Several new service-related fields have been added to the Accounts, Opportunities, Revenue Line Items, Quoted Line Items, and Product Catalog modules including Service (checkbox), Service Start/End Date, Service Duration, Renewable (checkbox), and Date of Next Renewal.

New quote and invoice templates containing service-related fields have been added to PDF Manager for the Quotes module. The templates are named "Quote (with services)" and "Invoice (with services)" and can be accessed from a Quote record's Actions items.
AUTOMATED RENEWALS MANAGEMENT
Automated Renewals Management allows staff to focus on delivering exceptional service and customer experience rather than spending time manually entering data into their CRM.

Not only have new dashlets & fields been added to display vital opportunity details such as 'Date of Next Renewal' – within Account records, for faster delivery of information.
Sugar Sell further automates the renewals process by generating renewable opportunities for you automatically.
For example – If an opportunity is recorded as 'closed won', and that opportunity contains products or services that have been recorded as 'renewable'. Sugar Sell will automatically generate a new opportunity containing all relevant information and products.
Allowing your staff to focus on what they do best, rather than spending time entering lengthy renewal opportunity details!
Feature Overview
When a line item is identified as a renewable service and its parent opportunity moves to the "Closed Won" status, a future renewal opportunity for the next service period will automatically generate.

The service's end date on revenue line items and quoted line items is automatically calculated using the line item's start date and the duration taken from the product catalog.

Accounts can be configured to show a Date of Next Renewal field, which reflects the earliest expected close date from all of the account's related, open, and renewable revenue line items. This is a reportable field that is hidden by default but can easily be added to account layouts in Studio.
CONCLUDING THOUGHTS
The new Renewals Console and Renewals Management features recently introduced to Sugar Sell add a tonne of great benefits for organisations running renewable or duration based products/services. 
The inclusion of these features makes it easier than ever for sugarCRM customers to organise, manage and automate renewable opportunities and products. 
Many of these new features require detailed customisations to deliver with other CRM's and are usually a bespoke request from organisations requiring such functionality.
If you are aware of the benefits of streamlining your internal Renewals Process – now is the time to start exploring these fantastic new features in your SugarCRM.
Your organisation will save tonnes of valuable time entering manual tasks and searching for information by automating and better managing the renewals process!
For any further information on how you can better manage your internal renewals process with SugarCRM, reach out and get in contact with one of our specialist consultants, our team here at Sugabyte live and breath business processes and will be more than happy to assist you in crafting the perfect Renewals Management solution for your organisation, helping you win more deals and renew more contracts!