Sugar Sell is SugarCRM's award-winning sales force automation solution, boasting renowned ease-of-use and continuous cloud innovation. 
Next-level Customer Relationship Management
Positioned as the most innovative, modern, affordable CRM solution on the market. Sugar Sell enables businesses to create customers for life, drive revenue, increase efficiency and reduce overheads through providing extraordinary customer experience. Sugar Sell consolidates your customer data into one central platform, leveraging your data, automating manual processes and empowering businesses with extensive reporting capabilities and intelligent insights.
Overview
Improve predictability and oversight of sales
Spend less time entering and finding data
Manage activities and interactions
Drive greater customer loyalty
Streamline the sales cycle
Integrate sales and marketing seamlessly
Provide insight, drive revenue, organise and manage
Improve Your Customer Buying Experience with SugarBPM
Automate your complete business process from lead routing, quote approvals, email notifications and more with SugarBPM, SugarCRM's business process management and workflow tool. Automate your sales process and decrease manual data entry allowing your sales staff to spend more time engaging with customers, in turn saving your business time, money and improving efficiency overall.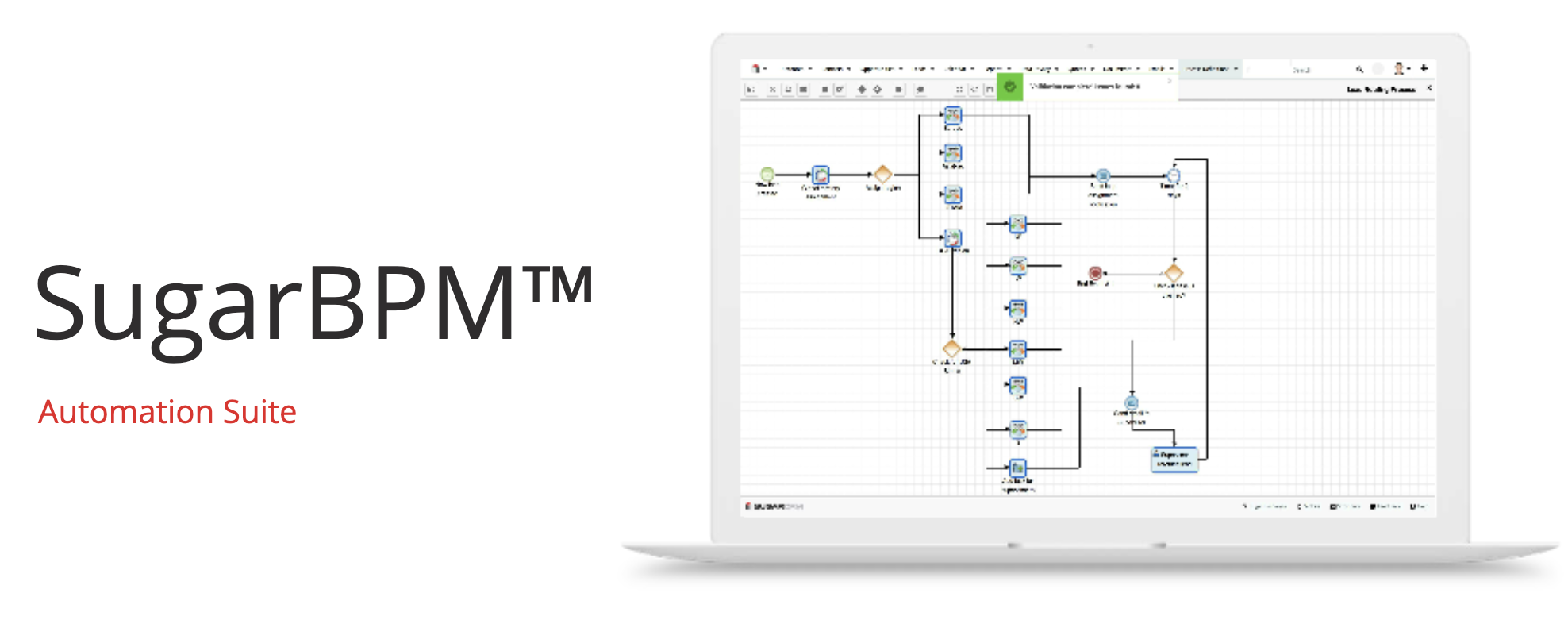 Feature Overview
Update an opportunity when a quote is accepted

Quote discount approval

Route leads and create follow-up tasks

Stagnant opportunity reminder

Pre-built use cases out of the box
Intuitive design
Why it matters?
Enforce lead follow up best practices across your entire sales team

Improve first touch time rates

Contact leads faster

Build structure and governance into your processes

Ensure nothing falls through the cracks

Re-assign as needed: If a rep is on holiday, or out of the office, Sugar will re-assign the process to another Sugar user automatically
Gain a New Level of Visibility into your Business
The Sugar Sells personalised user dashboard gives sellers a central, personalised view of their activities and key performance indicators. Gain a complete view of any business segment in just a few clicks by generating an interactive dashboard view of any data you wish to report on.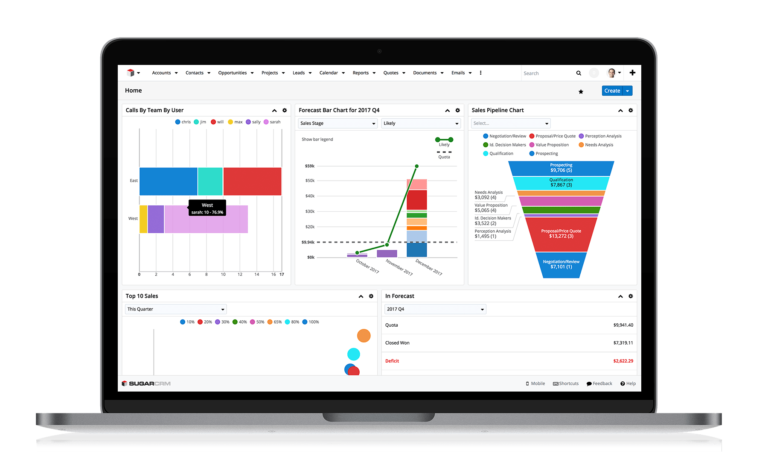 Feature Overview
Dashboard reporting live views
A better understanding of your trends
Quick and easy graphical representations
Understand past and present data anomalies
Increase ROI
Collaborative Selling = Win more deals!
Sugar Sell enables collaborative selling by empowering your staff with vital customer information along every step of the customer journey. Customer profile information, actions, emails and conversations are readily available amongst everyone in the sales process. With Sugar Sell, your staff have a complete overview of every process in the sales cycle.
Not only does Sugar Sell allow your sales staff to spend more time on important tasks rather than consuming their day searching for information, Sugar Sell gives your staff the power to drastically improve the overall customer experience making your customer feel more valued – resulting in improved customer acquisition and retention rates.
Create customers for life
Sugar Sell further encourages productive collaboration between teams through integration with Sugar Market, SugarCRM's powerful, all-in-one marketing automation tool.
Integrating Sugar Sell with Sugar Market allows users to leverage SugarCRM's continuous Cloud innovation and deliver even more powerful insights.
Sugar Market's CRM Synchronisation dashboard gives Sugar Sell users the ability to capture information at critical points in the customer journey while giving marketers the necessary tools to identify the most qualified prospects to target their marketing efforts towards.
Feature Overview
Website tracking – trigger automation from customer web activity
Align marketing and sales effortlessly
Track potential customer errors or issues
Complete and current prospect/lead data
'No Touch' Information Management
No-touch (also known as 'low-touch') information management gives Sugar Sell users a competitive advantage against other CRM's on the market. Put simply, SugarCRM's No-touch information management guarantees your users are presented with the most up to date, crucial customer information without having to spend time fact-finding and updating entries manually.
Sounds like magic, right? It is – all you need to enter is a customer name and email and Sugar Sell 'fact finds' for you in the background, seamlessly.
Typical CRM software has only been as powerful as the user inputting the data. This out-dated philosophy causes confusion, time wasted researching and a lack of precise data.
With this out-dated approach, it is almost inevitable that data will be lost, fragmented or difficult to find, leading to staff spending valuable time researching customer information amongst a pile of different data points.
No-Touch Information Management eliminates these data organisation issues by gathering and entering accurate customer data for you in the background, allowing your staff to focus on marketing, selling and customer service experiences.
Feature Overview
Spend less time entering and finding data and more time on high-value work
Captures content automatically
Processes and analyses data to provide the next best action guidance
Presents information in-context with users' daily activities
Continuous Cloud Innovation 
SugarCRM continuous cloud innovation means users receive regular updates and feature enhancements with Sugar Sell operating on a quarterly release cycle (every three months). This modern, innovative approach to software development ensures your business is a step ahead of your competition, allowing for speedy updates and seamless compatibility with third-party applications.
Continuous innovation is a key element to any CRM implementation, giving you the security that your software will always be a step ahead of the curve. SugarCRM offers great security in leveraging Amazon Web services (AWS) as their cloud partner. Partnering with Amazon aids in the swift delivery of new functions, leveraging a market leader in cloud hosting, offering users a secure, scalable solution aligning security and performance.
Amazon Web Services (AWS)
Global leader
Flexibility
Security
Scaleability
Ease of integration
Continuous cloud innovation
Sugar Sell Core Functionality
Lead, opportunity, account and contact management
A complete overview of each customer interaction
Reporting and live dashboards
Advanced reports out of the box
Product catalogue and quote management
Sales Forecasting
Outlook Plug-in
Added Functionality
To add to the core functionality of Sugar Sell, users benefit from a number of innovative add-ons to further fine-tune sales initiatives and increase efficiency. These add-ons are by no means basic tools, many have been acquired and developed from industry-leading software companies such as Salesfusion and Collabspot. These feature full add-ons provide no-touch information management, business intelligence, machine learning, intelligent insights, advanced analytics and more.

In Conclusion
We hope you have a better understanding of Sugar Sell and where this licensing option fits into SugarCRM's cloud lineup. No matter where you are in your CRM journey, the best way to realise your challenges and pain points is with a free consultation call with one of our expert consultants. We ensure you get the most out of your CRM project through our requirements workshops, analysing your business processes and goals – resulting in the most effective CRM solution possible, benefiting your whole organisation.
We work closely with SugarCRM and have implemented 250+ successful SugarCRM instances across the UK.