SugarCRM ranked as a leader in G2 Crowd Mid-Market Grid for CRM.
CRM can often be seen as overwhelming, but with SugarCRM's easy to use interface you can focus on the features that matter and nothing more. With SugarCRM, you are investing in a solution that fits your business needs wants and goals in order to achieve success. Sugar offers a variety of solutions to suit your business, these solutions combine the adaptability of the Sugar platform, rich ecosystem and SugarCRM's customer relationship expertise to address your most critical business needs.
Sugar's open source architecture allows you to customise and build your CRM to suit your businesses processes and needs by allowing flexibility and creativity to effectively manage your business's interactions with customers.
G2 Crowd is a business software review platform, however, unlike other software review platforms, G2 Crowd does things a bit different, 100% of their rankings come from users like you. SugarCRM is so proud that its users are so satisfied with SugarCRM the product that their reviews drove the Sugar into the Leader quadrant in G2 Crowds latest rendering of its mid-market grid for CRM.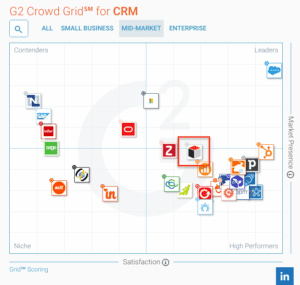 To read more on the G2 Crowds Mid-Market best ranked CRM software click here.
To read the excellent reviews SugarCRM users gave Sugar CRM for G2 Crowds Mid-Market CRM please click here.