As SugarCRM continues to widen the functionality gap between these two editions, here are the main differences between the two:
Advanced Workflow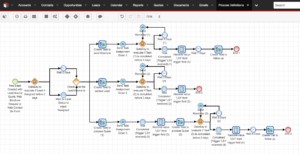 Automating daily tasks and reminders is one of the crucial jobs a good CRM solution should handle. Both, Sugar Professional and Enterprise editions have a basic Workflow Manager tool to set conditions, actions and alerts that trigger on record save or after a specified time elapses. However, SugarCRM has released a new tool called 'Advanced Workflow' for the Enterprise edition which brings the meaning of workflows and designing automated business processes to a new level. Advanced Workflow provides you with an excellent UI where you can build the actual flow on a blank canvas, drag and drop items and arrows and let the flow automatically update records, create records or send emails. This enhanced workflow tool gives automation a completely new meaning and is not just powerful, it is also very stylish and user-friendly!
Revenue Line Items and Forecasting
Sugar Professional and Enterprise editions have an Opportunities modules where users can manage their sales pipeline. But it might be essential to your business to record individual products or services against your opportunity and keep track which of your items are best sellers and which others might need further promoting. With Sugar Enterprise, you can keep track of revenue line items against your opportunities. And even better, you can use these line items to automatically generate the quoted line items in your Quote as well. This will save you a lot of time and will give you better insight into product and service individual stats. And, although all Sugar editions come with a Forecasting module, Sugar Enterprise allows you to forecast on the individual revenue line items too.
Role-based Layouts and Team-based Permissions
Assigning different permission levels to users is something that comes with any Sugar edition. But it might be crucial to your business that someone from the support team doesn't have a financial insight into your customers, whereas these figures will be crucial for your sales team. Sugar Enterprise has a feature called 'Role-based Layouts' in which you can define for different access roles individual record layouts so that the users assigned to a role only see the data they need which helps to keep the system neat and tidy. And to bring permissions to the next level, Sugar Enterprise comes with a tool called 'Team-based Permissions' – herewith you can use the record's Teams field to control what users are allowed to do (viewing, editing, deleting, exporting and lots more!) based on their team access.
Your Very Own Customer Portal
Next to having case management in Sugar which can integrate with your mailbox, Sugar Enterprise offers on top of this a Support Portal which your selected customers can access to better manage their tickets, view old tickets and also get access to your Knowledge Base which you can maintain in Sugar with versioning and language control!
2 Sandbox Systems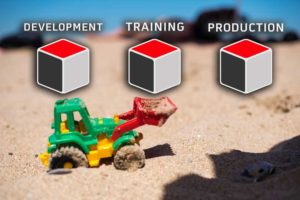 At times you might want to test a new module, a workflow or an add-on outside of your live production environment. With Sugar Enterprise you get two further sandbox instances. Having two further Sugar environments (which can be a copy of your production system by the way) is very handy as you can use one for testing and another for user training (we all know the hassle of cleaning data and finding a bunch of 'Test', 'John Smith' and 'Jane Smith' records. Just keep it outside of your production system!)
On-Demand Storage
If you are hosting your Sugar instance with SugarCRM direct (free hosting with SugarCRM!), you should definitely take into consideration the amount of data you will migrate into or create in Sugar when you are about to make a decision if you go with Sugar Professional or Sugar Enterprise. Sugar Professional comes with 15GB storage whereas Sugar Enterprise will give you 60GB storage. Having 100k Contact records saved in Sugar is probably not going to cause too much storage issues, but if you are planning to archive emails, email attachments and upload documents, you will want to opt for the Sugar Enterprise edition with extra storage space.
Support
In addition to our Sugabyte Premium Support, you will also get free SugarCRM technical support with any edition you purchase. Any support queries can be logged in a support portal provided by SugarCRM. However, you might require more flexibility and faster responses to your query. As a Sugar Enterprise customer, you can use their telephone support as well as their support portal.
You can expect SugarCRM to continue the current trend of widening the functionality gap between the two editions, and they aim to drive more new and existing customers to the higher priced edition.