We're excited to announce the acquisition of Salesfusion by SugarCRM. Salesfusion will not bridge the gap we once had between a great CRM tool with weak built-in digital marketing functions (the old campaigns module). SugarCRM can integrate with many Marketing Automation (MA) solutions but in our experience, in testing, they offer varying levels of data integration.  Some are 'OK', some are not so good. However, we have been testing the integration with Salesfusion and it's very good. SugarCRM already has assembled a team of developers making it even better.
What can SalesFusion do?
Salesfusion has a two-way integration with SugarCRM which when used together allows sales and service areas to become more productive by having the ability to take action on current customer insights to increase customer care and satisfaction as well enable businesses to create customers for life all of which will consequently increase revenue all via an easy to manage platform.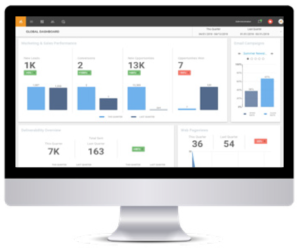 Salesfusion includes all features and functions that marketers need in order to create and manage campaigns, such as email & nurture marketing, lead scoring & management, website tracking & analytics, landing pages & forms, social media management, CRM integration as well as the ability to analyze data via reports that can be displayed in marketing dashboards that show the tracking and/or life cycle of the lead from creation to conversion.
Email & Nurture Marketing
Salesfusion offers the ability to send traditional bulk emails to marketing lists as well as creating and sending emails via nurture campaigns dependant upon the business requirements.
Email recipients can be segmented based on criteria defined via marketing lists, this can range from criteria based on lead scores that the prospect has earnt by interacting with emails/website/forms etc to criteria based on prospect data.
Marketing lists in Salesfusion are dynamic and so as the prospect is updated they will drop in and out of marketing lists and therefore enter/exit the relevant campaigns as required. This function eliminates the tiresome task of manually importing lists for each email campaign.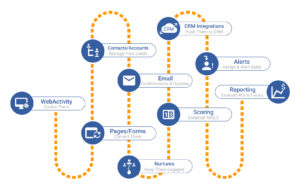 Nurture marketing helps prospects move through the funnel more efficiently than with traditional email marketing. The nurture campaign builder in Salesfusion has an easy to build visual designer that allows automated emails to be set up based on different rules. This allows prospects to receive relevant information that speaks to their specific criteria such as industry or actions.
Digital Marketing Management (Landing Pages & Forms)
Salesfusion can be used to create and manage businesses digital marketing in one place. Digital marketing includes emails, landing pages, web forms, online events, surveys and microsites, all created and managed inside of Salesfusion.
Users can easily build landing pages, email templates and forms via the building tools in Salesfusion and either using pre-made templates or the intuitive drag-and-drop functions. This easy to use builder allows marketers to launch more campaigns and thus generate more leads to pass onto sales users.
Lead Scoring & Management
The seamless integration between Sugar and Salesfusion allows real-time marketing information to update Sugar via alerts or creating Task records based on the interaction/activity/lead score in Salesfusion to help determine when a prospect turns into a hot lead, therefore, allowing the sales team to follow up with leads at the most opportune moments.
Not all leads are created equal, lead scoring allows you to score leads based on actions that are defined as valuable to your business. Based on this score, marketing and sales can gauge how ready the lead is to purchase the product and based on this lead score certain marketing information can be sent or an alert can be sent to Sugar for Sales users to follow up with.
Website Tracking & Analytics
Provides valuable information regarding visitors that have visited your site and measure their engagement with it. Built-in website tracking gives visibility into what pages prospects enter your site on and which content pieces drive further interaction. This web activity is then visible in CRM to ensure sales users can see an overview of the interests of the lead.
Event Management
Salesfusion provides an event management tool that allows the creation, management and tracking of all marketing events both online and offline. Online management is built in with Cisco WebEx and GoToWebinar integrations, users are able to sync registration data with CRM, deploy automated nurture campaigns and manage multi-session events all using on platform.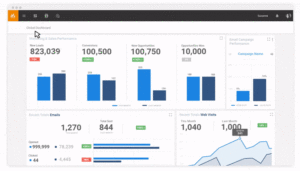 Social Media Management
Social media is becoming an increasingly important channel for distributing content and building an online presence. Salesfusion offers practical methods for incorporating a social strategy into campaigns with the ability to both schedule and publish posts across social platforms.
Interactive Dashboards and Reporting
Reports in Salesfusion can be built based on data gathered from campaigns, forms, lead scores etc dependant upon the businesses requirements. The easy to use drag and drop features allow any users to be able to create intuitive reports, not just data analysts. Reports can be presented by a chart, for this, there are multiple chart options such as bar, line, pie, maps and funnel reports to ensure the data is easy to view in the most preferred view. The report can also show the results in a row and column format to provide further information.
Reports can be shared with other users to be viewed or collaborated on. Reports can be scheduled to be sent to other members in your organisation to keep them informed about certain data.
Reports can then be displayed on marketing dashboards to allow users an easy to view an overview of relevant and informative data. With chart-based reports in dashboards, there is the ability to drill further into elements of the chart to gain deeper insights.
Would you like a personalised demonstration of Salesfusion?
Please use the scheduler tool below to book in your time slot.